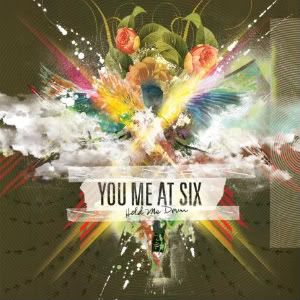 Release Date: January 11th, 2010
Label: Virgin/Epitaph
Website: www.youmeatsix.co.uk
MySpace: www.myspace.com/youmeatsix
Rating:


'Hold Me Down', You Me At Six's sophomore release, is an accomplished and polished land grab for the Americana pop-punk hyper success being enjoyed by so many bands from over that big Atlantic pond out west. They hide their UK origins well and without the prior knowledge you'd struggle to pull them out of any accent derived line-up along similar bands from the States. Of course, this is demanded of their genre and is only an issue for those who care about such things in a debate for another time.
Each song is a solid and likeable chunk of pop-punk goodness, rarely failing to hit that sweet spot of satisfaction. Throughout the album is consistent and well made, managing to carry its momentum forward without bottoming out or losing its energy and freshness. With that said, it's difficult to pick out anything spectacular as a stand-out track as nothing really breaks through as an individual moment of brilliance or excitement. Inversely, there are no disasters or major problems that puncture the album's play through, creating a sense of overall quality, if limited in scope, ideas and flair. This is a good, well-formed and rounded piece of work that just falls short of reaching the heights that the band's obvious ambitions and efforts deserve.
Tracks to check out, if more for song variety than highlights, are the finger-click-causing antics of 'Play The Blame Game', the twee and stripped down delights of 'Liquid Confidence' and 'Contagious Chemistry' with it's bouncy, pumped-up stomp. Each and every chorus on the album seems to have been separated from each other at birth, and are as effective as they are text book and predictable. On the upside, this gives each track continuity and easy to follow all-inclusive feel that only helps in the pop stakes.
You Me At Six have written a good, solid album of occasionally obvious pop-punk that manages to stay fresh and afloat thanks to the bands ability to fire up their songs with wide smiling energy and enthusiasm. This is of course a pop-before-punk pop-punk album and should be viewed as such. If you're a fan of the genre you'll find much to feast on and enjoy, with the occasional bout of déjà  vu. For those opposed, the lack of genre defying epiphanies or everyman exciting highlights means this is a non-starter. This is an album for the already converted, and not the outsider infidel.
Written by Greg Johnson