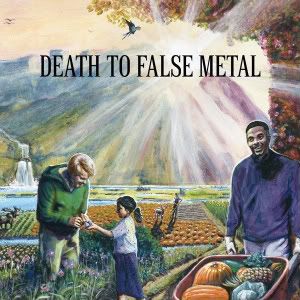 Release Date: November 2nd, 2010
Label: Geffen
Website: www.weezer.com
MySpace: www.myspace.com/weezer
Rating:


Weezer have released a new album 'Death To False Metal', only a few weeks since new full-length 'Hurley' hit the shelves. This time is a bit different though, this record instead being a b-side collection, something that will surely ensure all the hardcore fans are happy. Most of the songs stretch back to 1996's 'Pinkerton', and also some from 2005's 'Make Believe' album. As a result, 'Death To False Metal' sounds a lot more solid than most rarities collections, but a bit more variety would've made for a more interesting album.
'Turning Up The Radio' shows Weezer's ability to go from a stripped down verse into a soaring chorus effortlessly. The upbeat 'I Don't Want Your Loving' flows nicely with a trademark Weezer feel, although the in-your-face attitude they try with this song isn't always present. Double-entendre was never more alive as it is on 'Blowing My Stack', which is similar to 'Hurley' track 'Where's My Sex?', though lacking of a child-inspired story behind it. 'Pinkerton'-like guitar blasts are alive on several tracks such as 'Trampoline', adding a nice touch, especially for older fans.
Not every track hits the mark however, as 'Everyone' is a bit grating, and when frontman Rivers Cuomo repeats "I want to take you somewhere", you might feel the boredom. Meanwhile, 'I'm A Robot' has a daft sound that isn't entirely enjoyable. You'll have to decide for yourself whether album closer 'Unbreak My Heart' is moving or overly clichéd; it could go either way. Occasionally lame lyrics like "You are cool and you're hot / And you know what you've got" on 'I Don't Want Your Loving' show that some of these tracks could've used a little more time in the creative oven, but as is often the case with Weezer tunes, the hooks are too catchy for the lyrics to matter that much. Collaboratively written via YouTube with fans, the mindless 'Turning Up The Radio' is ideal for the album with its irreverent look at mainstream radio.
Rivers Cuomo rails against the nine-to-five way of life in two separate 'Make Believe'-era tracks, with light-hearted piano rocker 'I'm A Robot' besting 'Blowin' My Stack'. The real treasures of the surprisingly solid album are the band's hiatus-era offerings. The distorted angst of garage rocker 'Everyone' and thickly layered guitars of 'Trampoline' stand out as the tracks sure to please even those who are not Weezer fans.
Overall, 'Death To False Metal' is a must-have addition for hardcore Weezer fans, and even those who don't already own every single song recorded by this prolific group will probably want to pick it up as well.
Written by Rhys Milsom
Founder & Editor for DEAD PRESS!