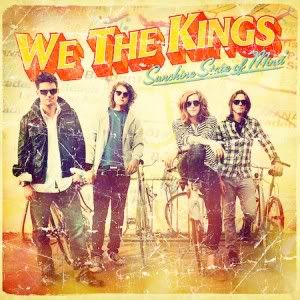 Release Date: March 19th, 2012
Label: S-Curve Records
Website: www.wethekingsmusic.com
Facebook: www.facebook.com/wethekings
Twitter: www.twitter.com/wethekings
Rating:


2007 was the year that We The Kings exploded onto the pop-rock scene with their self-titled debut album. It was a record that was packed full of promise, delivering catchy tunes, well-written lyrics and was full of heart. It seemed that We The Kings were on the road to success, but since then, all we have witnessed is a steady and disappointing decline in the quality of their music.
'Sunshine State Of Mind' is nothing more than a watered-down version of their second album,'Smile, Kid', and even that had its poor moments. Rarely exerting themselves, this album is the sound of a band who fail to set themselves apart from every other average pop-punk outfit out there. They simply make no effort to try something different, and again provide the safe option to please the teeny-bopper crowd. In fact, the term 'pop-punk' may still be a little too strong for this record, which could quite easily resemble the poppiness of McFly.
Travis Clark's voice is disappointing at times, whilst the vocal efforts heard on their self-titled debut were the quintessence of the catchy voice this genre needs. Furthermore, the lyrics borderline on lazy and sound like they have been written by a local band of fifteen year olds, rather than established artists three albums into their career. Album opener 'Friday Is Forever' starts the record off with a frankly embarrassing set of lyrics; "Friday is forever / We belong together tonight / So come on, come on / Don't you say never". Don't try to convince yourself that it gets any better; it doesn't.
Produced by S*A*M & Sluggo, who were also responsible for Metro Station's 'Shake It', it comes as no surprise that there are echoes of bad power-pop. Upon hearing the intro to 'Sleep With Me', you would be forgiven for thinking that Metro Station had made a guest appearance, with distorted vocals and a low-tempo rudimentary beat.
The only track that redeems this album slightly is their lead single, 'Say You Like Me', with its backing guitars and percussion giving off a gentle reggae vibe. It's one of the catchiest songs on the album, without venturing into the same banal route the album's remaining tracks take.
We The Kings have sourly disappointed on this record, but following 'Smile, Kid''s poor reception, maybe this was to be expected. It's a real shame, as the pop-punk genre has grown in popularity a lot over recent years and bands like this have succeeded to make it big, but that doesn't mean to say that the same sound should be recycled over and over until its simplicities just turn into something associated with lazy musicianship.
Written by Ashleigh Wight