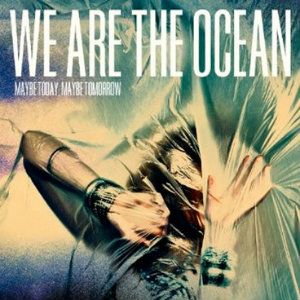 Release Date: September 7th, 2012
Label: Hassle Records
Website: www.wearetheocean.co.uk
Facebook: www.facebook.com/wearetheocean
Twitter: www.twitter.com/wearetheocean
Rating:


It's always difficult when a band loses a vocalist. Fans immediately wonder if the band will even stay together, nevermind still make music up to their previous standard. We Are The Ocean lost screamer turned singer Dan Brown after their previous release, 'Go Now And Live', and have now returned with 'Maybe Today, Maybe Tomorrow', seeing guitarist/vocalist Liam Cromby taking over as frontman. It's an album that will hopefully put people fears to rest, show off what this band can do and perhaps show where they are heading in the future.
Worries are put to rest with first single, 'Bleed', which demonstrates that WATO are maintaining the rock sound and are still instrumentally impressive. However, not content with just that, Cromby pushes his vocals towards the rougher end of the spectrum on tracks such as 'Story Of A Modern Child' and 'The Road (Run For Miles)' to really hit home the fact that the band are not changing completely despite losing a member.
Adding some variety to the album, the opening and closing tracks of the album see quieter, acoustic numbers that wouldn't be out of place on a City & Colour record. This is a path which is a feasible choice considering the vocal ability of the new frontman, something that has been demonstrated on previous releases and at live shows. They also take a shot at some folk rock on the track 'Pass Me By', which is somewhat reminiscent of Frank Turner's work, but also shows how WATO are willing to develop themselves and not stick to their comfort zone.
'Maybe Today, Maybe Tomorrow' is a good album that the band really needed to reassure their fans that they can continue going strong, despite the departure of Brown. It shows they can still keep their heavy rock sound, but also have the talent to change up the dynamic and provide some diversity to their repertoire. If anyone was worried that this could have been the end of We Are The Ocean fear not, they aren't leaving the music scene anytime soon.
Written by Jonathon Barlow
Founder & Editor for DEAD PRESS! | Atheist and antitheist. | Judge of the quick & the dead since 1989.