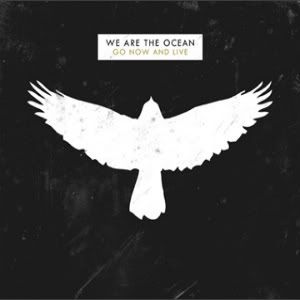 Release Date: October 31st, 2011
Label: Hassle Records
Website: www.wearetheocean.co.uk
MySpace: www.myspace.com/wearetheocean
Rating:


Just like with debut album 'Cutting Our Teeth', London post-hardcore outfit We Are The Ocean have release a deluxe edition of follow-up, 'Go Now And Live'. However, instead of having EP tracks on the second disc, the band have went for something completely different with their first ever Live & Unplugged performance at London's Bush Hall.
During the performance, Dan Brown confesses the band deliberately wanted to challenge themselves and see how they coped with attempting an acoustic performance, a rather controversial decision for any band typecast in this genre to do, and especially to record the first go and put it on an album. However, WATO aren't your typical post-hardcore band as we found out from the original standard release of the album. Where the first album was raw aggression, the band matured a lot on 'Go Now And Live', with the notable change being screamer Dan Brown doing clean vocals, and the acoustic performance emphasises these changes. Opener 'What It Feels Like' shows that this risky move paid off, with his rough, gritty voice perfectly contrasting and also harmonising at points with Liam Cromby's soft, clean vocals.
Some songs are obviously more fitting to the acoustic genre than others, like 'Run Away' and 'Now And Then' and are played beautifully, in a way that would make you think that WATO have been doing this for years. Songs like 'This Is Called My Home' also transferperfectly from electric to acoustic, managing to maintain the aggression and emotion of the original. The crowd even have a sing-along during 'Nothing Good Has Happened Yet' and 'The Waiting Room' for a nicely uplifting finale to this one-off show.
The one song that everyone would assume would fit in, 'Confessions', is probably the most risky choice, and – with keyboards and a slightly Jools Holland, jazz/soul feel to it – is probably the weak link, but yet again, it is very different and it's impossible to not take notice of. There's also a country version of 'These Days I Have Nothing' thrown in there which is far from perfect, but you have to appreciate the difficulty and how well a "screamo" band manages to pull this off.
What WATO have done here is offered something completely different, yet again. The deluxe edition is a must own album for any WATO fans and is definitely worth checking out. The album alone is worth it, however, the acoustic disc (whilst not perfect) is a valiant effort and very different to anything you've ever heard. It may not have worked as a standalone release, however, paired with what is recognised as the band's breakthrough album, it works very impressively, and has everyone wondering what this band will do next.
Written by Gary Cassidy