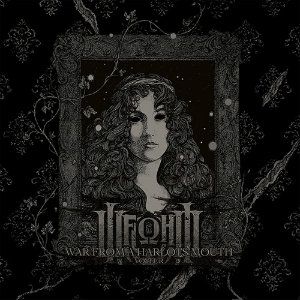 Release Date: October 19th, 2012
Label: Season Of Mist
Website: www.wfahm.com
Facebook: www.facebook.com/wfahm
Twitter: www.twitter.com/wfahm
Rating:

Always hovering somewhat under the radar, quirky extremists War From A Harlot's Mouth are a band which seemed to revel in their madcap inaccessibility. With fleet fingered lead work, slap dash structure and jazzy interludes sprinkled liberally throughout their rather middling standard deathcore, it was apparent that a certain rate of maturity, and some truly memorable songs, were going to be vital if the band were going to carve out any sort of future.
Coming across with a pleasing focus, 'Voyeurs' rather welcomely substitutes odd ball technicality for an all the more menacing, pitiless atmosphere. Tracks such as the devastating 'To The Villains', a tirade of blast beats and jarring grooves, or the off-kilter violence of 'Of Fear And Total Control', display a slithering malevolence which not only introduces a new found darkness to the band's sound, but also establishes a more direct song writing approach which, although not entirely abandoning the dexterities, certainly makes for a more engaging listen.
Indeed, as the album progresses, the small flourishes of variation begin to steadily reveal themselves more and more. Whether it be the very Deftones-esque clean chorus which erupts entirely unexpected in 'Scopophobia', 'The Black Lodge' which incorporates some gorgeously delicate leads into the sonic barbarity, or the heaving crawl of the snails pace 'Krycek', 'Voyeurs' manages to maintain ruthless, uncompromising aggression yet a simultaneous knack for bracing dynamics.
War From A Harlot's Mouth have undeniably struck on a stirring path here. In a time where copy cat djent outfits and tired metalcore posturing is all too often lauded, 'Voyeurs' delivers a set of tracks, both merciless and refreshing, which again set this German quintet apart from the pack.
Written by Tony Bliss