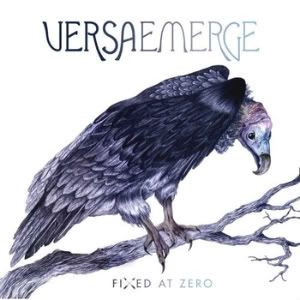 Release Date: June 22nd, 2010
Label: Fueled By Ramen
Website: www.versaemergemusic.com
MySpace: www.myspace.com/versaemerge
Rating:


In a space of less than 12 months, VersaEmerge have had their line-up cut down from five members to just three, leaving a bit of an impairment when it came to writing and recording their debut full-length. Thankfully none of the main songwriters or strongest members kicked it to the curb, making 'Fixed At Zero' the same intended product from day one.
Due to the fact the group are signed to Fueled By Ramen and are also fronted by a female vocalist, obvious references to label friend biggies Paramore are literally unavoidable. The fact of the matter is, this is where all significant and notable similarities end, something that 'Fixed At Zero' manages to set straight once and for all. VersaEmerge are a very different entity to Paramore.
From the very beginning with 'Figure It Out', theatrics and experimentation with instruments is something that this bands pride themselves on to stand out from the crowd. Pop-rock is also a very prominent forefront throughout, coating their sound to make for an accessible listen, and leaves 'Fixed At Zero' and 'Stranger' in a prime position for strong singles.
'Mind Reader' stands as one of the album's strongest moments, unveiling quick into the album the progression musically and in within songwriting that has taken place over the year and a half since their self-titled EP. Sierra Kusterbeck's vocals are strong, beautiful and inviting, showing a talent far beyond her years. 'Fire (Aim Your Arrows High)' also unveils the sometimes hidden vocals of bandmate Blake Harnage, sounding like a bit of a pop boy band member but brushing against Sierra's vocals with ease and great compatibility.
The whole pop-rock effect is worn away bit by bit through closers 'Mythology' and 'Lost Tree'; the former showing to one of it's strongest attempts of their more electronic and theatrical input into their sound, and the latter being a progressive monster spanning over six minutes long. Acoustic guitars and soft vocals slowly step up and build into Sierra's bursting scream, which leads onto the closing minutes of the record. Various lyrical extracts from the album's songs are sung over a pummeling yet co-ordinated close.
Their Paramore comparisons are still without a doubt going to stick for a long time still, but 'Fixed At Zero' is the first step in removing that tag for good. This debut shows VersaEmerge spanning their wings, and preparing to take flight with the big birds.
Written by Zach Redrup