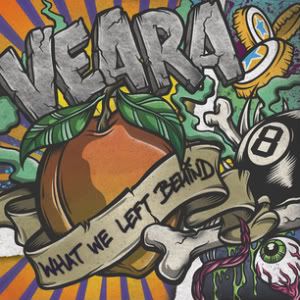 Release Date: October 25th, 2010
Label: Epitaph
Website: None available
MySpace: www.myspace.com/veara
Rating:


Signing onto Epitaph with the likes of big punk names New Found Glory, Bad Religion and Alkaline Trio, Georgia's Veara have released their full-length debut 'What We Left Behind'. Having released a self-distributed EP, the band come to the frontlines with their first record. One could say that this album delivers, and they would most definitely be right.
From the very get go you get kicked in the face with 'We Have A Body Count'. The song starts with some yells, riffing and eventually a short low bass sound. The first verse is lead by the drums in the first section then the guitar comes in with its own riff in the second part, then you are taken into a very catchy chorus. Next is a different, slower paced bridge section, another chorus, and the outro. Ultimately resulting in what is a very short song. 'Better Off Without You' features a nice guitar riff, and some decent drumming, but it is yet again another short song. In fact, all the songs are short, like a classic punk rock style. 'My B-Side Life' is a catchy sing-a-long effort about getting through life and what comes with it, bringing similarities to the chorus of A Day To Remeber's track, 'NJ Legion Iced Tea'.
The album overall is filled with catchy songs that feature gang vocals, sweet guitar riffs, decent bass that is more audible in certain songs than others. The vocals on this album are very catchy, while at the same time vary from on each song. The drumming is the highlight of the band and glues everything together. While not being anything super technical, you can't help but notice they are anything but a boring band. A lot of ADTR influences clearly come into play on this album, along with tinges of New Found Glory and Four Year Strong. The closing two songs should have had their tracklisting order reconsidered. It's not that 'Kicked In The Face' is a bad song, it just doesn't fit as an album closer. 'Head For The Hills' however would have been a good choice. With the familiar fast-paced verses and catchy choruses followed up at the end of the song, with a few seconds of acoustic guitar, you get another chorus where the song finally ends on the words "I'll be gone for now".
Overall, 'What We Left Behind' is a catchy fun album, and a great first release that Veara should be more than proud of. Only time will tell what direction this band takes, and whether or not they will last in the ever so popular pop-punk world.
Written by Rhys Milsom