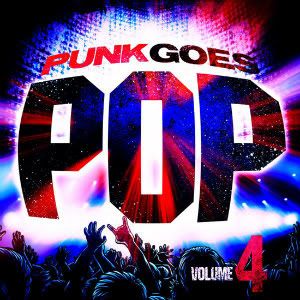 Release Date: November 21st, 2011
Label: Fearless Records
Website: www.punkgoes.com
Facebook: www.facebook.com/punkgoes
Rating:

The Punk Goes… series in its past few releases has received mixed reviews, people seem to either love or loathe the compilations, which as time has gone by have seemed to back away from featuring bands that would bands that would be considered 'punk'. Now, with the series' 12th installment, 'Punk Goes Pop 4', many of the artists featured could only loosely be considered punk, and sadly like the last few additions to the collection, the majority of this release is barely worth your time.
Now, of course, the covers stretched throughout this compilation, much like all of the others by Punk Goes…, aren't to be taken too seriously and are all for a bit of fun and a laugh. But, some of these renditions, such as The Ready Set's cover of 'Roll Up' (by Wiz Khalifa) and For All Those Sleeping's take on 'You Belong To Me' (by Taylor Swift) fall short of anywhere near fun, and unless you're a fan of either band then make sure you're familiar with the location of your skip button.
Pierce The Veil's opener of 'Just The Way You Are' (by Bruno Mars) is far from their greatest effort, but is definitely stamped with the band's own identity. Woe, Is Me's third cover of Katy Perry, this time around with 'Last Friday Night (T.G.I.F.)', doesn't offer anything much different from their previous stabs at her work, and thankfully the lack of surprise works in their favour.
There are a few strong gems stored away on here though, Go Radio's and Sleeping With Sirens' contributions to the record (Adele's 'Rolling In The Deep' and Cee Lo Green's 'Fuck You' respectively) work surprisingly well with the band's makeover of the tracks, as does Chunk! No, Captain Chunk!'s near polar opposite working of 'We R Who We R' (by Ke$ha). It's Tonight Alive's facelift of 'Little Lion Man' (by Mumford & Sons) which stands as the crowning moment of the album though, truly carrying the Australian outfit's style and managing to pass it off through a track that originally is very different and have made it one of their own.
Nevertheless, as a whole body of work, 'Punk Goes Pop 4' is still a far cry away from regaining the full praise the series of compilations once held back in its earlier glory days. There are a few pieces which are worth checking out, but for the most part this is more of a casual listen once or twice than something to return to and play from start to finish.
Written by Zach Redrup