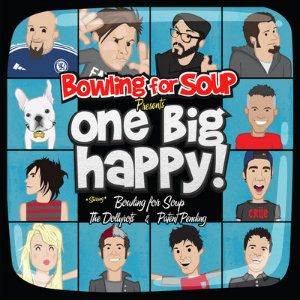 Release Date: September 24th, 2012
Label: Que-So/Brando Records
Website: www.bowlingforsoup.com
Facebook: www.facebook.com/bowlingforsoup
Twitter: www.twitter.com/bfsrocks
Rating:

I'm not quite sure how to go about reviewing this, so I'll just dive right in. 'One Big Happy!' is a three-way split between up-and-coming pop-punk acts The Dollyrots and Patent Pending under the watchful eye of Bowling For Soup. Since this is being released on BFS's own record label, I can imagine them acting as mentors to these guys Also, both bands are going on tour with BFS, so I guess that this is album would be a cool little souvenir of the show too. 'One Big Happy!' has each band covers two of the others songs as well as releasing a brand new one of their own, which is a neat little way of getting to know each band.
By now, everyone knows what Bowling For Soup sound like, so there is very little point describing their sound to you. Their fresh new song here 'Let's Go To The Pub' is classic BFS; a bouncy pop-punk song about drinking with a catchy chorus, funny lyrics and bouncy riffs. Closing track 'Love Ya, Love Ya, Love Ya', which is just Jaret Reddick (of BFS) and Kelly Odgen (of The Dollyrots) is another great little song here and a great sign off for the album.
Patent Pending are well on the way to be the next big thing and Bowling For Soup's Erik Chandler has described them as the band's baby brothers. Imagine a slightly softer version of New Found Glory but with gruffer vocals and you have these. Their loveable charm is similar to that of BFS and it shines through in their witty lyrics and playful attitude. Their own song 'Psycho In Love' is a perfect example of this.
The Dollyrots are a three piece that are an amalgamation of classic punk acts such as The Ramones and The Clash. However, they have a female vocalist so, unlike The Clash, the singing is actually good. Though somewhat punk heavy, they have a lively and bubble sound which contrasts nicely in songs like 'Just Like All The Rest'. Even though it's a simple song, it's one of my personal favourites on here.
'One Big Happy!' does just what it says on the cover, it's a happy little album that introduces you to two awesome bands. Though perhaps you may have had to go to the tour to fully appreciate 'One Big Happy!', it's still a pleasant listen and a well made record. If you're into your pop-punk then this is an album for you. If, however, you are a miserable bastard who keeps their inner child locked away then perhaps you should give this one a miss. I should point out though that I fucking love this album and you will too.
Written by Andy Roberts