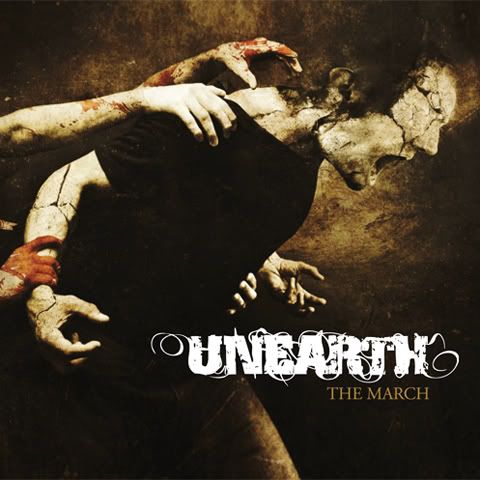 Release Date: October 13th, 2008
Label: Metal Blade
Website: www.unearth.tv
MySpace: www.myspace.com/unearth
Rating:


There's so many –core genres being generated out there that it's becoming increasingly difficult to define the difference between each one, and in turn categorising a band's musical style from it. Unearth from the US are quite simply straight-up metalcore, and with their latest 10-track record of blistering metalcore, they intend to march through the masses into a clearing to call their own.
With 'The March', Unearth have pulled out the checklist for a generic metalcore album, and ticked most every box to feature everything about that genre that makes it its own. Group shouts and chants are chucked in there in 'Grave Of Opportunity', fast galloping guitar solos and fills are thrown in left right and centre, and a solid yet intense drum input from Derek Kerswill makes 'The March' an experience for metal fans to have a piece of everything they could want. The other thing is, that despite it being a release, band, and genre field out of the immediate mainstream spotlight, there are pure moments of almost pop-esque chorus techniques to keep the songs replaying in your mind over and over 'til you get sick of them. Opener 'My Will Be Done' is a clear guilty perpetrator of such a claim, as is 'The Chosen', and the album's title track, holding that catchiness factor which is sometimes a great benefit for bands like Unearth. If you're after annihilating vocal work that makes your heart black from a simple catch of the ear then you may be a bit disappointed, with Trevor Phillips' vocal cords contending for what could possibly one of the most audible in the metal scene, and nothing similar to the likes of Annotations Of An Autopsy or Whitechapel.
'The March' is certainly a record that could well push Unearth through the masses of metal acts copycatting one another with the slightest difference shoved in to make them seem original. They've done this not by being different themselves, but by producing a damn decent metal album to be proud of.
Written by Zach Redrup