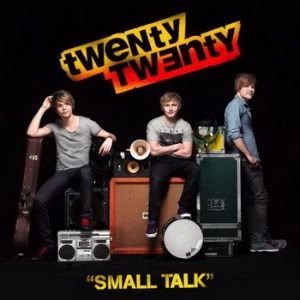 Release Date: May 2nd, 2011
Label: Geffen
Website: www.twentytwentyband.com
MySpace: www.myspace.com/twentytwentyband
Rating:


Upon my first listen of Twenty Twenty's debut album, 'Small Talk', I wasn't quite sure what to make of it. On one hand, I could understand why they had such a big following (lyrics about lost love and teenage angst, simple instrumentation, easy to listen to songs and the singer's voice isn't too bad) and I had an image of their fans being shy emo kids wearing Simple Plan and David and Goliath t-shirts, watching the band with adoration, tears trickling down their face as the singer wails into the microphone about wanting a girlfriend and life not being fair.
But, then, I couldn't understand why anyone would happily buy this album and actually take the time to listen to it. It's Americanised, there is no inventiveness, the lyrics are far too similar and the guitarist seems to know a limited amount of chords that he uses over and over again.
The only song that's barely listenable is 'Get Down'. The lyrics here are as intelligent as it gets on this album, the music is pleasant and it's the song that is more likely than the others to be heard on the radio. It would be no surprise if people bought the album solely on listening to this song. If the rest of the album was in this vein then Twenty Twenty would have done well for themselves, as this song has got the ability to become a true indie anthem with a little more work, and it's sure to be the band's party piece at future gigs.
Though the track 'The Puppeteer' is far from enjoyable, it's one that doesn't pack as hard of an annoyance factor as the others. It has a nice synth line and the drumming is laid-back and rhythmical at the start, but then the chorus kicks in and it's like listening to a very poor boy band singing an ode. It would be okay as a first round song if the band entered a talent contest, but it's doubtful they'd get much further in the competition if they used the same song, or any other song apart from 'Get Down'.
Overall, 'Small Talk' is an album that is to be avoided unless you're a die-hard romantic or a die-hard indie-fan, or even want to venture into the world of your emo cousin's new favourite band. A poor attempt for a band, who sadly show they've got talent ('Get Down') but just haven't seemed to grow up.
No passion. No inventiveness. No future.
Written by Rhys Milsom