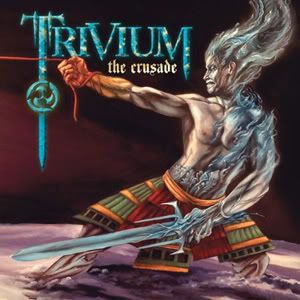 Release Date: October 9th, 2006
Label: Roadrunner Records
Website: www.trivium.org
MySpace: www.myspace.com/trivium
Rating:


The third and perhaps most important chapter so far in the story of Trivium, 'The Crusade', now marks its place. If you previously liked Trivium purely for Matt Heafy's original vocal work then you may be disappointed; between finishing 'Ascendancy' and writing 'The Crusade', Matt has changed his vocals quite dramatically. Gone is his old shouting and yelling to be replaced with actual singing, not a million miles away from James Hetfield of Metallica.
The album sparks off with 'Ignition', which is about standing up to the government. It's a great sing-a-long song to start this record off, with thrash style guitar work and a little piano section in the chorus. Recent single 'Anthem (We Are The Fire)' shows riffs and drum beats that just stink of the classic Metallica sound, complete with a shout back chorus. 'And Sadness Will Sear' is another stand-out track; the verses have dwelling-like vocal work with a banging drum beat behind a slow guitar riff.
Seemingly trying to emulate Metallica's 'Orion', Trivium finish with an instrumental. They may not quite pull it off, but it certainly shows-off their musicianship.
Different to much of Trivium's previous work, some may even say better, they prove once again that they have amazing songwriting skills, great musicianship, and that they can write some pretty awesome riffs. However, this dramatic change may leave some of their older fans behind, sticking with the older era of the band. For everyone else, prepare to embrace 'The Crusade'.
Written by Zach Redrup