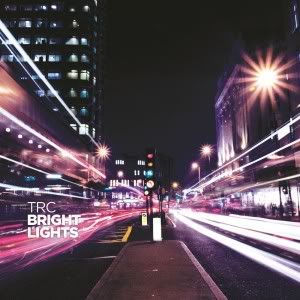 Release Date: August 8th, 2011
Label: Siege Of Amidia Records
Website: None available
MySpace: www.myspace.com/trchardcore
Rating:


'Bright Lights' is the latest studio album from genre-smashing hardcore lads, TRC. The band have been making waves in the UK underground hardcore scene since 2006 with their savage mix of hardcore riffs, throat splitting vocals and UK hip-hop making a rather polarising hybrid of genres.
Upon first listen, it's difficult to take TRC seriously with the rather out-of-the-norm hip-hop over the crushing riffs sounding at times somewhat comedic. However, this is a band where the more you listen, the more you enjoy and understand what package they're trying to deliver, and their latest offering 'Bright Lights' is no different.
'Define Cocky' sums this band up perfectly, especially if you've ever caught these guys live. The lyrics "I'm better than you" are howled from singer Anthony Carol while impossibly catchy chugging riffs crash about your ears, making it difficult to stay still whilst listening through.
The brilliantly titled 'H.A.T.E.R.S.' (or Having Anger Towards Everyone Reaching Success) is a damning tribute to everyone that this band has caused controversy for. "You don't have to like me / You're just mad 'cause I tell it like it is / And you tell it like it might be" is one of the many genius lyrics aimed right at the heart of anyone who has ever smack talked this band for what they do, and after all, that's what hardcore is about; making music about the things that mean the most to you. This song is pretty much TRC's middle finger to everyone who doesn't like them, and rightly so.
'London's Greatest Love Story' is another extremely poignant song, all about cheating and getting cheated on. "I'm a love-struck liar burnt in the past, so I keep her in the dark" is one of the heart felt lyrics shouted forth about why some people cheat. If you're going through a break up put this song on and start smashing things up, I guarantee it will make you feel much better.
'Go Hard Or Go Home' is one for the beat fans with it's crazy manic riffs and ultra frenzy vibe. The song is essentially one massive breakdown, whereas 'Crash Landing' has a more thrash feel to it, with powerful melodic riffs and rapid blast beat drumming.
'Bright Lights' is an excellent hardcore album, and one that shows that TRC are still keeping it real and making music that resonates within people. Whether it's writing lyrics about everyday life problems, going to gigs or the people that hate them, you'd be hard pressed to not find a song on the album that you can relate to. If you hate hip-hop but you like hardcore this album may be a difficult listen, however, if you can get on with this change of style the album is a stand-out offering in today's hardcore scene; pounding riffs, raw vocals and honest rap, what more do you want?
Written by Steven Potter