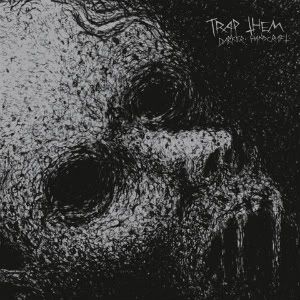 Release Date: March 15th, 2011
Label: Prosthetic Records
Website: www.wecraftindarkness.com
Facebook: www.facebook.com/trap-them
Twitter: www.twitter.com/trapthem
Rating:


Ever wondered what would happen in a zombie apocalypse to Every Time I Die? They'd no doubt continue to function as a band, but with a much more gritty and nasty sound to them. That's the best way to describe Trap Them's third studio effort, 'Darker Handcraft', a terrifying whirlwind tour through crusty hardcore mixed with ferocious grindcore. Utilising a 'buzzsaw' guitar tone championed by Dismember and Entombed, the sound is truly disgusting and certainly makes the listener sit up and take notice. A more recent comparison would be to compare them to Rotten Sound, whom they in fact toured with this year.
Sure, many of the songs follow the same formula, but with such filth ridden tunes as 'Slumcult & Gather' and 'Evictionaries', it definitely follows the "if it ain't broke, don't fix it" formula. The ETID reference from earlier really stems from the same don't-give-a-fuck attitude about the songwriting, with Ryan McKenney's screeching vocals adding to the aural violence nicely (seriously, this dude should check into a mental home or something if he's gonna go on being this crazy).
'The Facts' is probably the stand out song from the album, featuring an excellent catchy chorus with lyrics "I am a goddamn son of a bitch, in the dead of the night" re-affirming the band's swagger and nonchalance. I double dare you to stand anywhere near the middle of the room when this one drops live. Album closer 'Scars Align' is the slowest, if you can call it that, track of the bunch, and clocking in at 4:28 it does deviate from the traditional grindcore ideals of 30 second in-your-face blasts. Refreshing indeed.
Another interesting thing to note down is that the official song titles again follow the "Day xx" system that Trap Them have been using since their inception. Taking the calendar from Day 32 through Day 47 in no particular order (omitting a couple of days of course), it's interesting to listen to in both the track order and this more linear order.
Trap Them are doing to hardcore what Skrillex and co. did to club music, taking the tried and tested approach and then strangling it to near death, before fucking it like its never been fucked before. If ever there was an audible equivalent of being raped by jackhammers, this is it.
Written by Martin Savage