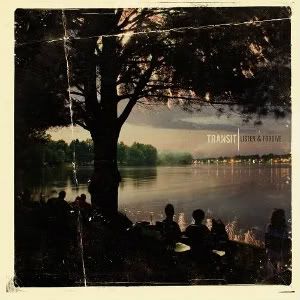 Release Date: October 4th, 2011
Label: Rise Records
Website: www.transitband.com
MySpace: www.myspace.com/transit
Rating:

If you are a fan of pop-punk, then the word Transit will mean more to you than just the type of van your favourite bands travel up and down the country in. It will in fact trigger the sound of songs like 'Dear Anyone' and 'Please, Head North' through your head. Songs of course by Massachusetts very own definition of Transit; a rising pop-punk band who have just released the album which has made them one of the most talked about bands of the last month.
'Listen & Forgive' is more than worthy of the hype surrounding it. Having been written off as a Man Overboard novelty act in the past, Transit have let their music do the talking and written an album bursting with catchy hooks, infectious melodies and – as always – huge sing alongs. Yes, there's no denying that at times they sound similar to Man Overboard in the sense they both share the emo edge which makes them some of the more easy listening pop-punk bands of today. But make no mistake, they are in their own right an incredible band, and this third full-length showcases them at their very best.
Opener 'You Can't Miss It (It's Everywhere)' is a bit of a slow starter, but builds to a more promising climax towards the end. However, leading single 'Long Lost Friends' is where this album really begins. Exposing a sweet melody held together by well crafted guitars, the song produces the chorus which could well define them as a band. What 'Save It For The Bedroom' is to You Me At Six, 'Long Lost Friends' could be to Transit.
By immediately continuing the album by comparing himself to a rusted bike, Joe Boynton leads the band into title song, 'Listen & Forgive'. Yet another impeccably catchy song, the Americans prove that they're not just another conventional pop-punk band, but in fact have a softer edge which rounds them off and sets them apart from an incredibly crowded genre.
Throughout the rest of the album, Transit ooh and ahh their way through a remarkable 40 minutes, presenting us with twelve of the best songs they have ever written. This is an incredible album, but I still feel like they have a lot more to give. That is why Transit are one of the most exciting bands in the world right now.
Written by Chris Loomes