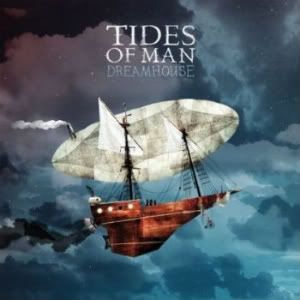 Release Date: September 14th, 2010
Label: Rise Records
Website: None available
MySpace: www.myspace.com/tidesofman
Rating:

The label Rise Records is often subjected to ridicule and jokes for their recent constant signings of cliche and generic post-hardcore/screamo/hardcore acts that are often portrayed to display minimal variation between one another. Tides Of Man are one band on their roster that doesn't slide into the constant shuffle of breakdown happy groups the label have been renowned for, and instead deliver a visceral and technical musicianship that sticks them out from the (excuse the pun) ocean of what's often mediocrity.
'Dreamhouse' is the sophomore record from the band, and straight from the first few lyrics from opener 'Not My Love 2' ("You tried to make amends / But I destroyed your friends / If only we could speak again"), frontman Tilian Pearson's high-rendered vocals become a very dominant weapon in the freshness and individuality with Tides Of Man. This is all wrapped and carriaged through track-after-track by Spencer Gill's intricate and intimidating riffs and leads. It's the perfect deliverence along with Tilian's soaring voice, which together is more than capable of both impressing and intimidating the likes of Circa Survive and sometimes dreary Closure In Moscow.
It's not all perfect though, one thing that all this great artistry drags them down with is the lack of major variation. Thankfully things don't bleed into each other too strongly to make each track hard to distinguish from another, nor does it even tip-toe territories of boredom and become stagnant. It's just little additions like a scream chucked in here and there from previous album 'Empire Theory' may have made things more versatile with tracks more listenable on their own than having to appreciated fully as a whole body of work.
Tides Of Man showcase great artistry with 'Dreamhouse', and make sure they stand-out in a good way from the all too samey roster that Rise Records currently has on offer. Not everyone may have the patience to appreciate this album fully, but those who do will be rewarded greatly with its treasures.
Written by Zach Redrup