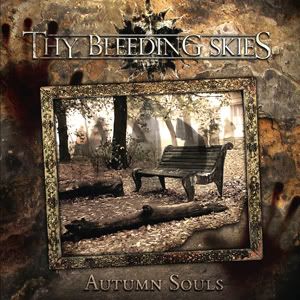 Release Date: June 17th, 2011
Label: Whirlwind Records
Website: None available
MySpace: www.myspace.com/thybleedingskies
Rating:

Melodic death metal is such an art to master and one that isn't mastered very often, I can tell you that. However, Germany's own Thy Bleeding Skies do it in style with a massive Swedish influence underground. Showing their flexibility they have tracks that are acoustic and even one that sounds quite poppy in a certain manner, showing that they're not just great musicians, but can also mould their sound to make themselves fit into any slot they see fit.
Claudio Enzler's vocals just make you want to give him a strepsil or two, ranging nicely from harsh growls to straight up angelic cleans in a matter of minutes. An amazing range that even a large majority of the most established and respected vocalists of the genre would be envious of.
The stand-out tracks have to be 'Memories' and 'In Endless Dreams, Everyone Dies'. With both carrying with them such an ambient and arena sound, it just adds to the epicness of what Thy Bleeding Skies can deliver on this album, and that can only be applauded. A fine effort from the Germans who love to mix things up.
Written by Dom Wyatt