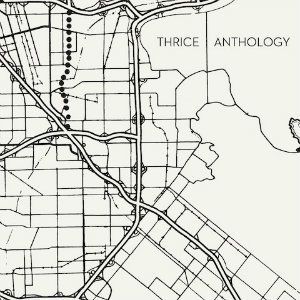 Release Date: October 30th, 2012
Label: Vagrant Records
Website: www.thrice.net
Facebook: www.facebook.com/officialthrice
Twitter: www.twitter.com/officialthrice
Rating:

Live albums are often terrible. They either sound truly awful because of the 500+ fans screaming and whooping every two seconds, or they make you feel like you've really missed out and that you should have been at the gig they recorded. It's a risk most bands don't take and often save live music for DVDs or bonus content on deluxe albums. Thrice, however, have plunged headfirst into the potential snake pit of a live album with 'Anthology' as a farewell to their fans as they have decided to go on hiatus.
Thrice have been making skater punk, post-hardcore, rock music for the last 14 years and this album is a selection of their biggest hits (in front of a live audience) to be embraced as a thank you from the band for all their fans' support. Thankfully, the fan to music ratio of noise is actually pretty balanced. There's enough time between every song for the crowd to roar their appreciation without ruining the start of the next song and, thanks to that, there are some truly spine tingling moments to be had throughout. For instance, the clapping during 'Image Of The Invisible' and the roaring of the lyrics before the song reaches its powerful climax puts you right into the heart of the crowd.
This album is truly value for money for any fan. At a massive 24 tracks, it fully spans the length and breadth of the bands roller coaster career. From their earliest releases, like 'T & C', to much more recent offerings in the form of 'Minor/Major'. What's most interesting is that each track was recorded on a different date of their farewell tour that accounts for the bizarre cut offs that happen throughout the record. What's most amazing though is that only helps build the atmosphere you can really tell that the fans and the band were having an amazing time at every single venue. The power of tracks such as 'Under A Killing Moon' and 'Silhouette' contrast magnificently against slower tracks, like 'In Excile' and 'Beggars'.
Not only is this album an excellent farewell offering, it's a solid body of work that thoroughly justifies the bands cult following. 'Anthology' is as necessary to any Thrice fan as oxygen, but to a casual listener it poses as more of a greatest hits album with a live and raw edge and shows the band in arguably their best light, in front of their adoring fans. Thrice, you will be missed.
Written by Steven Potter
Founder & Editor for DEAD PRESS! | Atheist and antitheist. | Judge of the quick & the dead since 1989.