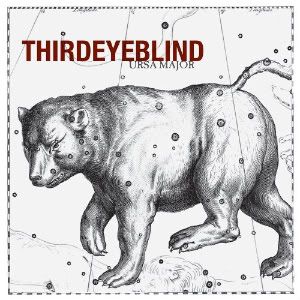 Release Date: April 12th, 2010
Label: Mega Collider
Website: www.3eb.com
MySpace: www.myspace.com/thirdeyeblind
Rating:


Third Eye Blind return from a six year hiatus since 2003's 'Out Of The Vein' and you've got to wonder why they bothered.
'URSA Major' sounds like a Nickelback fan's take on 30 Seconds To Mars with some horrifically chedder choruses and embarrassingly poor lyrics that kill off any sense of atmosphere or believability that may have threatened to take hold. Lead singer and songwriter Stephen Jenkin's choice of words are dire ranging from the hilariously literal to the sickeningly generic and awkwardly forced. He struggles to barely contain himself whenever the air turns a giddy shade of blue. Make no mistake, Third Eye Blind are not some fourth wall winking, satire act this is just extremely poor writing.
Musically things don't get much better. This is an album either written by the depressingly uninspired or an accountant trying to scrape the rock band lowest common denominator out of the barrel in this hard, recession hit times. Opening track 'Can You Take Me' sounds like Motion City Soundtrack from five years ago topped with the kind of cringing usually reserved for drunken under loved office bosses at the christmas party. 'Don't Believe A Word' is possibly the least poor, and therefore best track on the album here but it's still so horribly trite and insincere that you'll begin to view ears as evolutionary mistakes. 'Sharp Knife' is an attempt at the confessional with such mortally wounded wordplay as "I wrote a song for you but what's the use / how did we get so loose?". Dreadful.
Pub rock with brass is the best way to describe 'One In Ten' with it's mind numbing, brain cell slaying plod. Outside of 'Summer Town' and its zombified Red Hot Chilli Peppers-lite Americana radio rock stupor it's mostly dull, tepid acoustic based and stripped down tracks with the occasional plugged in chorus thrown in here and there for the obligatory hollow fist pump in the air for some docile defiance.
'URSA Major' doesn't deserve your time, money or bandwidth. Displays of pity or mild disgust are fitting for this shower of mediocre mediocrity. Third Eye Blind are a poor man's Tenacious D without the laughs or the decently written material. Treat this release as if it can transmit bubonic nastiness and stay the hell away.
Written by Greg Johnson