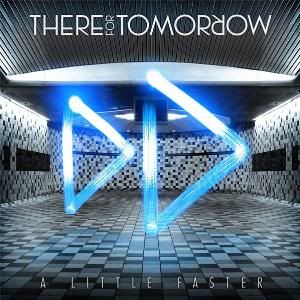 Release Date: June 6th, 2009
Label: Hopeless Records
Website: www.therefortomorrow.com
MySpace: www.myspace.com/therefortomorrow
Rating:


Five years is a long wait for a following album to be released, especially from a band that isn't placed on a legendary pedestal or regarded as a messiah to the masses. 'A Little Faster' is the sophomore album of Florida pop-rock four-piece There For Tomorrow, and though it's nothing blinding or life changing it's got the makings of an album made of constant plays.
Much like pop-rock/pop-punk biggies Fall Out Boy, Paramore and the rest, There For Tomorrow have clearly got catchy hooks and melodies perfected down to a tee. Without a shadow of a doubt 'Deathbed' and the album's title track are just two of the eleven tracks that have all been crafted and built to loop around your head hours after your last listen. Obviously this is a good trait to have with any record, you want people to remember your songs and come back for more, but in doing so There For Tomorrow haven't quite offered a great deal of diversity or change to steer away from a stale listening session. Regardless of big style and genre changes and breaks from the cliche verse/chorus/verse formula, 'A Little Faster' is an album that has definitely been driven to be played for your upbeat and fun moments without fail, and there'd be no surprise if it were played constantly across the summer months. It'd be even less of a surprise if these lads aren't upcoming poster boys to plaster the walls of teenage girls' bedrooms whilst tugging their heartstrings with 'I Can't Decide' along with all the others.
'A Little Faster' is far from boring, but it's also far from perfection. There For Tomorrow could well be the next All Time Low, all over the magazines, radios and television… they may even be there tomorrow.
Written by Zach Redrup