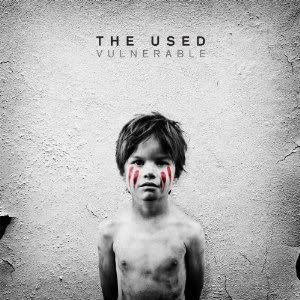 Release Date: March 26th, 2012
Label: Hopeless Records
Website: www.theused.net
Facebook: www.facebook.com/theused
Twitter: www.twitter.com/wearetheused
Rating:

As the age of the Internet and the generation of Internet kids has began to grow and evolve, so has the music industry and the way bands have operated in order to get their music out there whilst still maintaining control of their work. Smaller bands go with the DIY approach, releasing things themselves on their own terms and under their own label imprints and following a recent departure from label of 10 years, Reprise Records, Utah's The Used have headed down that route themselves with new album 'Vulnerable' too.
Aside from 2004's 'All That I've Got' and 2007's 'The Bird And The Worm', in terms of singles The Used really haven't had that much of a commercial success, at least not over in the UK. Still, they've managed to maintain a strong and dedicated fanbase, even despite their rare live appearances over here too.
Admittedly, 'Vulnerable' probably won't push these guys back into the spotlight, despite how much more they should be in it as much as their well documented friends-turned-enemies, My Chemical Romance. What must be commented upon and commended however is their ability to maintain their identity album after album without a desire or slight steer into another direction.
'This Fire' and 'Put It Out' echo the band's well known style whilst updating it at the same time. Bert McCracken's distinct vocal style remains as erratic yet melodic throughout as always, 'Now That You're Dead' and 'Kiss It Goodbye' display the former of these two characteristics strongly, whilst 'Give Me Love' supports evidence for the latter.
It's notable, however, that compared to some of the band's previous releases, overall there's more melodicy – present mainly within the second half of the record, like closer 'Together Burning Bright'. Lyrically it's much the same, as Bert talks much less of negativity and self-deprication and shooting more hope (see 'Moving On' and 'Shine') into the life of the band.
Despite the band sticking to their guns, maintaining a sturdy and somewhat sturdy take of their already firmly established style, there's no huge surprises or anything overly impressive in terms of instrumentation or song structure. The presence of more computer influenced sounds is certainly hard to not notice, which keeps things a little up-to-date and fresh, but all present The Used fans will be able to digest 'Vulnerable' as easy as any other release in their back-catalogue.
Written by Zach Redrup