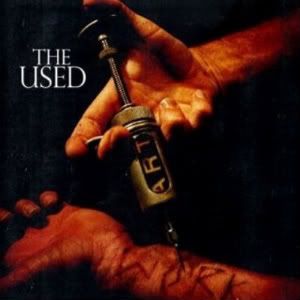 Release Date: August 31st, 2009
Label: Reprise Records
Website: www.theused.net
MySpace: www.myspace.com/theused
Rating:


'Artwork' is the fourth album for Utah 4-piece The Used, and is also probably one of their most important and long awaited, as it is their first record to feature new drummer Dan Whitesides. It's also the first album the band have written that isn't produced by John Feldmann, with the band instead deciding that Panic! At The Disco's producer Matt Squire would be more suitable to produce the different sound that the band wished for.
The album rages to an explosive start with 'Blood On My Hands', a fantastically rocky, catchy track that completely encompasses the new sound that The Used have embraced. The chorus is one of those that is guaranteed to be stuck in your head for days after first listen. You'll find yourself singing the lyrics at the most inappropriate times: on the bus, in the car, in an important meeting/lecture… well, you get the picture; "There's blood on my hands like the blood in you / Some things can't be treated, so don't make me be myself around you". Slower song 'Born To Quit' is another to listen to, and one that promises to get a good sing-along from the crowd live. Bert McCracken's melodies swim around blissfully, creating something that is very easy on the ear. The occasional use of clean guitar compliments this perfectly, and the gentle surge into a rousing chorus is awe-inspiring. Dan Whitesides really proves his drumming ability on this album, and shows us all why he is more than worthy of a place in one of the most popular current alternative/rock bands around. Despite the slow nature of many of the songs on the album, he still manages to showcase his ability and some of the sequences he has created are epic.
Quinn Allman's use of clean guitar is a much welcome change from the distortion we've come to expect from The Used, and perfectly compliments the new sound the band have been aiming towards. The riffs he has created for the heavier tracks however are truly stunning and certainly adds to the awesome new sound that this album promotes. Bert McCracken's lyrics seem to be more haunting than ever, having a personal feel that I personally haven't gained from any of their previous records, although admittedly I was never the biggest listener, and this is the first of their records I've really stood up and took notice of. Some lyrics that held particular clarity for me however are those from 'Born To Quit'; "The further you go, the less you'll know / You're born to quit, you've blown it / You need to let go of letting go / You're full of shit, you're born to quit" and those from 'Sold My Soul' "Sold my life to bring the rain, maybe to wash me clean / Sold my soul to stop the pain, hoping you'd set me free / All your fear, all your shame / You know that you can lay it all on me".
'Artwork' is truly a beautiful record. The slower, gentler tracks that they've come up with this time prove to be extremely easy on the ear while still claiming something that immediately makes you snap and think "yep, that's The Used". For once I wouldn't actually be able to name a track that's particularly weak on the album to avoid.
Written by Lucy-Jayne Love