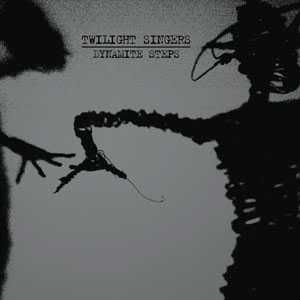 Release Date: August 29th, 2011
Label: Sub-Pop Records
Website: www.thetwilightsingers.com
MySpace: www.myspace.com/thetwilightsingers
Rating:

'Dynamite Steps' is the fifth album from American indie rock outfit The Twilight Singers. Fans of the band's earlier work certainly won't be disappointed, as Greg Duli has only refined what has made the band so successful over the last decade or so. The familiar sounds are all here; the clashing guitar work and hard-hitting vocals still resonate as powerfully as they ever have.
One of Duli's main traits is still apparent throughout the record, his occasional flirtation and miss of tone in his voice. Some listeners may turn their nose up at this inconsistency, however, if you like your indie rock heartfelt and honest, his off-key voice adds another layer of emotion a better produced voice might lack. Duli's voice sounds particularly intoxicating during 'Waves', and really sounds strained as the lyric "What you'll foresee is what you'll get" is longingly but aggressively crooned at you, whilst frantic guitar work heightens the sense of urgency within the song.
The tempo of the album slows with 'Get Lucky' haunting violin work makes up the backbone and atmosphere of this broken love ballad, whilst 'On The Corner' explodes into a much more exciting affair. He even sneaks in a cheeky little guitar solo to liven things up that does, in all fairness, make the song sound a little lame, but then again, this is American indie rock written by a forty-year-old man.
'She Was Stolen' sounds particularly ballad-like opening, with dramatic piano work with Duli's voice hollering over the top. The lyrics "You'll be lied to you will suffer, I'm gonna get you back" paints an image of hard fought love and protecting the one you want. 'Never Seen No Devil' is a stereotypically southern sounding tune, everything from the grammatical nightmare of a title to the way Duli sings over twinkling guitars and starts the song with a harmonica intro. As the song progresses, these southern flavours are abandoned for violin work yet again, which works nicely but does begin to get repetitive and boring.
If you appreciate Duli's earlier work, this album is a pleasant listen, although in parts it's almost comedic and a bit too Americanised and makes for difficult listening. Some tracks sound too familiar as well, making the album drag during the mid section. However, if you like your rock soulful and full of meaning, there is no denying that Greg Duli's work has come from a hefty musical career, and even ten years down the line he's still able to write songs about love, hostile cities and troublesome journeys.
Written by Steven Potter