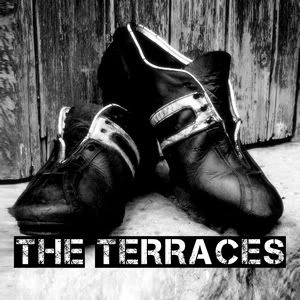 Release Date: April 30th, 2012
Label: Blast Records
Website: www.theterracesrock.com
Facebook: www.facebook.com/theterracesrock
Twitter: www.twitter.com/theterracesuk
Rating:

What do you get when you combine three angry Australians and ex-One Way System bassist, Gary Buckley? Well, it turns out that you get The Terraces. Buckley has put down his bass and taken vocal duties on this punk rock self-titled debut release and he sure does pack a hate-filled punch.
Typically British snarls and spits of lyrics create nostalgia for giants such as Sex Pistols and The Clash and immediately you find yourself fist-pumping and chanting along to the repeated, infectious choruses, complete with the obligatory "woah-oh"'s.
Buckley seems to be somewhat of a tortured soul. 'Care About Nothing' repeats the words "I don't love you anymore" whilst the guitars and keys take a slightly more sombre tone, simultaneously keeping the punk rock theme. '25 Years' continues this mood, speaking of loneliness and isolation whilst travelling the country. We are given a name to put to more heartache in the final track, 'Victoria', an apparent sweetheart from times past.
However, all this woe is countered by the straight up punk anthems that make up the main body of the record. In true punk fashion, Buckley talks of breaking out of the standard factory job and making something of himself, an issue that has been brought up countless times however is still relevant in today's society. Punks are typically outcasts, but from that there is a sense of allegiance between them. This is echoed in the lyrics "Don't worry about me, I'll be alright, got a short back and sides" from which the song title, 'Short Back And Sides' is taken. The diversity in lyrical content makes the record engaging, tackling subjects both personal and social.
Although the record has a very strong 80s punk sound, it's brought more up to date with the track 'Dundas Street' consisting of more complex guitar parts and layers without detracting from the 'oi' nature.
The Terraces have made a valiant effort to keep punk rock alive in its original form; however, its lack of progression musically holds them back. They have dipped their toes in contemporary music, but it would be nice to see them plunge themselves into it. A healthier balance of modern and traditional would make for a more interesting listen whilst keeping the anarchic tone. Nevertheless, for those who still rock a UK SUBS backpatch and mohawk, give this a listen. It might be a nice addition to the record collection.
Written by Jack Birch