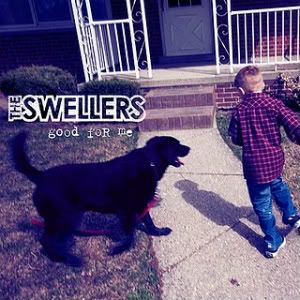 Release Date: June 14th, 2011
Label: Fueled By Ramen
Website: www.theswellers.com
MySpace: www.myspace.com/theswellers
Rating:

Michigan pop-punk quartet The Swellers impressed immensely with 2009's 'Ups And Downsizing', delivering a collection of marvellously honest songs which were as infectious as they were sincere. As they continue to travel down a more accessible path, it becomes apparent when listening to 'Good For Me' that this evolution is certainly not to the detriment of their song writing quality.
The second that the magnificent lead guitar line which detonates opener 'The Runaway' appears, it is clear that we are on familiar territory, albeit somewhat refined. The songs, although never quite reaching the frantic pace of their skate rock origins, remain as driving and gripping as ever, thanks in no small part to the water tight rhythm section of Jonathan Diener and Anton Boros. Yet balanced with this forcible nature is the glorious vocal work of singer Nick Diener, who weaves his compelling tales of small town life through huge choruses, present in such tracks as 'The Damage' and superb lead single 'The Best I Ever Had', which are performed with utter conviction and a gritty authenticity. It is Diener's delivery that ultimately makes 'Good For Me' such an absorbing listen, as it is nigh on impossible not to be drawn in by his heartfelt musicianship.
The guitars are also impressive. Although remaining relatively simple, the riffs, such as the charming introduction to the extremely catchy 'Inside My Head', are certainly danceable, whilst the axe work in songs like the aforementioned 'The Damage' serve well to compliment Diener's melodies with their straightforward manner.
Pleasingly, The Swellers are continuing to create good, genuine rock music. By enhancing their craft with subtle changes, the primary of which being a considerably improved front man, the band are able to progress whilst retaining their signature sound, and with such a consistent album under their belts, it is hard to see how The Swellers won't go on to gain a significant number of new fans. Without a hint of pretence, 'Good For Me' captivates the listener by simply putting its heart out there for all to see.
Written by Tony Bliss