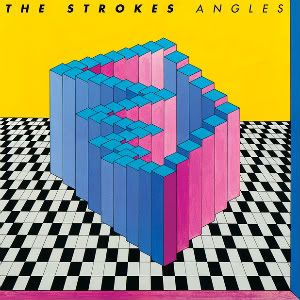 Release Date: March 21st, 2011
Label: Rough Trade
Website: www.thestrokes.com
MySpace: www.myspace.com/thestrokes
Rating:

I'm not a fan of mathematics, but when The Strokes are involved I'm definitely intrested in angles. The band's new album 'Angles' may have taken the band 5 years to create, but good things come to those who wait, and The Strokes have finally come back to conquer the music world all over again with a brilliant comeback record.
The albums opens with 'Machu Picchu', an engaging start boasting a ragged 80s disco groove, with Julian Casablancas crooning about swapping fashion tips with Lady Gaga, "Wearing a jacket made of meat". 'Under Cover Of Darkness' is a reminder of what made you fall in love with The Strokes in the first place, complete with classic Strokes composition and snotty lyrics, the first of the album's highlights.
'Phrazes For The Young', Julian's 2009 solo album definitely is a big influence on The Strokes' fourth venture, most notably on the song 'Two Kinds Of Happiness', a slice of the 80s. The same can't be said though for 'Your So Right', which is definitely a contrast to the happier vibes of 'Two Kinds Of Happiness'. 'Your So Right' acts as a complex metallic song, something where you could imagine a brooding robot listening to it drinking wine, complete with a good guitar solo too.
'Taken For A Fool' picks back up the rock 'n' roll after it was lost in the robotic 'Your So Right'. The track is defintley an ode to the sound of the band's classic second album, 'Room On Fire', and for that is one of the album's strongest moments. It's back to the 80s once again with 'Games', but this time Julian is singing about "Living in a empty world", and is probably once again just filled with brooding robots.
'Call Me Back' is the classic crooning moment which can be found on most Strokes albums, "I look for you and you look for me", a more upbeat take of the band's demo 'I'll Try Anything Once', but 'Call Me Back' is a weak moment on an otherwise stellar album. After a brief soul searching moment, the fun is kick started again with 'Gratisfaction'. The band definitely get their rocks off for this number, a majestic moment and probaby the album's greatest moment. It echoes Queen and Thin Lizzy, an obvious showcase of their classic rock influences. 'Metabolism' is the evil twin to 'Juicebox'/'Heart In The Cage' but echoing muse.
'Life Is Simple In The Moonlight' wraps up the album perfectly, with Julian ending on the lines "Don't try top stop us, get out of the way". It's clear that the band that created the blueprint for a decade with 'Is This It' aren't going anywhere soon.
Written by Ali Pritchard