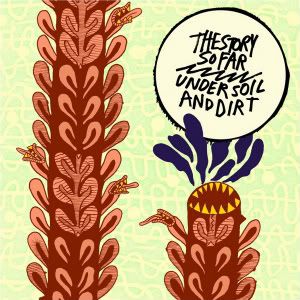 Release Date: October 8th, 2012
Label: Pure Noise Records
Website: None available
Facebook: www.facebook.com/thestorysofarca
Twitter: www.twitter.com/thestorysofarca
Rating:


Pop-punk is about being real, having heart and generally having a fucking good time. With this criteria set out, Bay Area quintet The Story So Far step up to the plate with their brilliant debut full-length, 'Under Soil And Dirt'. There is no box left un-ticked, it's uncompromising throughout and is no holds barred good fun. The band's debut EP and split with Maker, went down well and they have began to gather pace in the scene, and this full-length has definitely cemented their place as one of the scene's front runners.
From the moment 'Under Soil And Dirt' kicks into life with the short intro 'States And Minds', you know you're in for something special. You would be right in thinking this as every track on this record is as special and as good as the one before it. Tracks like sure to be fan favourites 'Roam' and 'Mt. Diablo' sound absolutely huge as the band pack their tight riffs and pounding drums under Parker Cannon's raw yet hugely melodic vocals. In a genre that is renowned for wearing its heart on its collective sleeve, The Story So Far do just this with lyrics like "Fuck an apology, I'm not sorry for anything / I've been holding back my apathy for far too long" cutting straight to the point, and as a result make 'High Regard' one of the best songs on the album, no, that I have ever heard.
The same could be said for many songs on this album, if not all of them. Whether the band are quickening the pace with the explosive 'Quicksand' or slowing things down with the relaxed 'Placeholder', they never step out of anything other than fifth gear. The brilliance of the album is relentless and it will make you want to listen over and over again.
This may be the perfect pop-punk album, it may just be a contender for album of year and all credit to these lads for making an album so brilliant. 'Under Soil And Dirt' will hopefully set up a very bright future for this band. God knows they deserve it.
Written by Oliver Thompson
Founder & Editor for DEAD PRESS! | Atheist and antitheist. | Judge of the quick & the dead since 1989.