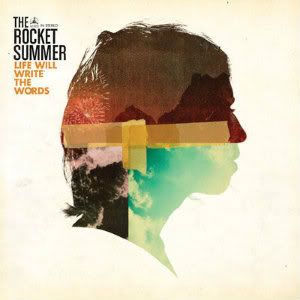 Release Date: June 9th, 2012
Label: Aviate Records
Website: www.therocketsummer.com
Facebook: www.facebook.com/therocketsummer
Twitter: www.twitter.com/therocketsummer
Rating:


The fact this music is coming from one guy is unreal, that is simply it. The Rocket Summer (aka Bryce Avery) unleashes his new album 'Life Will Write The Words' upon the UK and will break hearts and grace ear drums worldwide. Owning an album compiled with brilliant song writing, catchy tracks and soulful vocal, this guy will uplift your mood and get you on your feet within seconds.
Track by track you are wowed by Bryce, a beautiful name with a hands down stunning vocal talent. 'Revival' being the album front-runner with that hooking chorus and a lick of excitement laced throughout its three and a half minutes. Mentions also go out to tracks 'Circa 46' and 'Ashes Made Of Spades', both of which are complete gems. The piano parts to 'Circa 46' are exciting and thrilling in all the right places; it's nice to see this instrument used in such a way and a pleasure to sing a long with.
You should definitely add this album to your 2012 summer collection. It will lighten your mood and give you that get up and dance feeling. Sod the rain, let's all go crazy to The Rocket Summer.
Written by Steph Knight