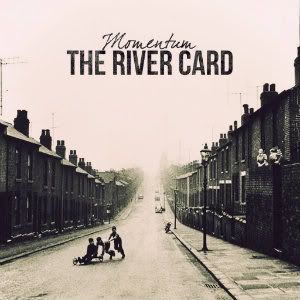 Release Date: April 2nd, 2012
Label: Bare Necessities Records
Website: None available
Facebook: www.facebook.com/therivercard
Twitter: www.twitter.com/therivercarduk
Rating:


With hardcore so stylistically varied nowadays, it's rather refreshing when a band comes along which stick rigidly to the genre's roots. Stoke-on-Trent's The River Card are one such band, brimming with enough snarl and bite to give even the most innovative hardcore acts a run for their money.
There is little in the way of dynamics with 'Momentum', yet what the release lacks here is more than made up in intensity. Tracks such as the full throttle 'Cliques' and the raging 'Ignorance Feigned' are drenched in that basement show ascetic that is nigh on impossible to fabricate. Indeed, every second of the album just screams hardcore aggression, whether it be the old school, uptempo vibe of the guitars, the frentic percussion or the hoarse vocal delivery.
Although, there are slight glimmers of wider influence. The drum intro and uplifting chord pattern of 'Snakes Pass' contains some shades of pop-punk, and the chugging breakdowns during album closer 'The Conscientious Objector' perhaps betrays some more modern influences.
All in all, there are little surprises with The River Card's debut. Consistently stellar blasts are authentic, barbarious hardcore is the name of the game here, and proves to be the perfect antidote to the multi-layered sound of current trends. With various shows and tours in the pipeline, it looks like The River Card have all the momentum in the world.
Written by Tony Bliss