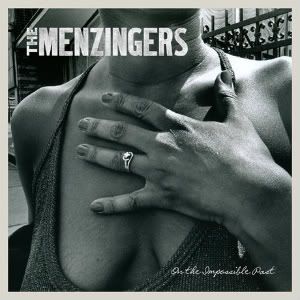 Release Date: February 20th, 2012
Label: Epitaph
Website: None available
Facebook: www.facebook.com/themenzingers
Twitter: www.twitter.com/themenzingers
Rating:

Punk is a rapidly morphed and evolved genre these days and can be found in all sorts of mongrel forms. One deviation that is particularly difficult to nail down is power punk; if it's too grimy and raw and it's almost hardcore, and if it's too soft and clean then it's pop-punk. The Menzingers have got it just right by taking it back to its earliest form. A combination of heartfelt lyrics sung with both gravelly undertones and crystal clear pitch complemented with power chords make up their new album, 'On The Impossible Past'.
For devout fans, this most recent offering is a little different from their earlier efforts with the band stating that "'On The Impossible Past' isn't a straight forward punk album with gang vocals but it definitely sounds like us". It's certainly a more refined result, and it's clear the band have progressed both lyrically and instrumentally.
The album immediately grabs you and brings you in close with opener 'Good Things', and instantly lets you know how this album is going to sound. A near on perfect combination of jaunty verses, spite-ridden lines and uplifting guitar work. 'Burn After Writing' follows suit, with the only differences being that frontman Greg Barnett rests his vocal chords slightly, allowing fellow guitarist Tom May to lend a hand that creates an intoxicating punk melody.
The band have also chose to experiment and it's clear to hear which songs are intended for a punk audience; namely 'The Obituaries', which has a glorious chorus of "I will fuck this up / I fucking know it" for you to sing along to if you're feeling particularly self deprecating. However, it's not all power punk, as title-track 'On The Impossible Past' slows the tempo down almost to a stand still with the track opening with some truly haunting guitar work and equally as upsetting lyrics before shotgunning back into text book The Menzinger form.
'Sculptors And Vandals' is an enchanting track, beginning with twinkling guitars before escalating into a truly pit worthy mess of riff work, showcasing the band's experimentation with their sound and thankfully it is an interesting and satisfying listen.
Power punk maybe best suited for the younger generation, but The Menzingers have managed to produce youthful and energetic music that tells a relevant and engaging story. Bad romance, living in cities you're sick of and reminiscing about more carefree times – 'On The Impossible Past' has it all. An excellent combination of laid back rock one minute and ferocious punk the next, The Menzingers are offering more than singing about getting fucked up and getting laid.
Written by Steven Potter