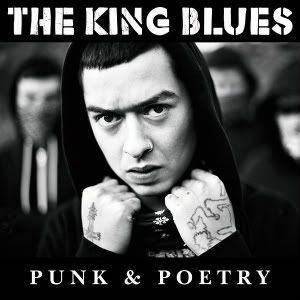 Release Date: April 17th, 2011
Label: Transmission Recordings
Website: www.thekingblues.net
MySpace: www.myspace.com/thekingblues
Rating:


There is no true way to describe the sound of The King Blues. It is clear that they have influences in all walks of life; punk, rock and roll, indie, ska, the list is endless. No matter how you want to describe them, there is no doubting what they stand for. They stand for radical change amongst this country's political leader, which obviously heavily influences the band's lyrical content that on the surface may put off some people, but when you delve further into the band's sound you will be more than pleasantly surprised at what you find.
Anger is an emotion that often perpetrates the music of The King Blues, and as 'Last Of The Dreamers' blares it is apparent the band are back and just as frustrated as ever. 'We Are Fucking Angry' sends a chilling message to the listener, "We are fighting back and we are fucking angry". Never have The King Blues sounded so raw as it sounds like Jonny 'Itch' Fox is about to burst as he screams his lyrics. Songs like the singles 'Set The World On Fire' and 'Headbutt' pack just as big a message, but they also have huge sing a long choruses to match.
Everything about this album sounds better and bigger than their breakthrough album, 'Save The World, Get The Girl'. The musicianship is so much better and tighter, guitarists Jamie Jazz and Dean Ashton work seamlessly to provide gritty yet strangely upbeat riffs, which make songs like 'I Want You' so delightfully catchy. Musical variation is also a reason why this album is far superior to its two predecessors. On the terrifically haunting 'The Futures Not What It Used To Be', the band manage to include elements of jazz and dubstep into the mix to give the song a more refined sound, and one that fans will likely embrace as a live favourite.
There are also other instances of the use of various forms of music being used, most notably on the short interlude 'Dancehall' or the strange 'Sex Education'. For anybody who has seen them live, you will be glad to hear that Itch's ukulele makes an appearance on the short 'Shooting Fascists'. The strings and mellow backing track on dramatic closer 'Everything Happens For A Reason' is reminiscent of The Streets or Just Jack, which goes to show that is possible to make a radical album and still make it accessible to most listeners.
The band are anarchists in every meaning of the world. Seamlessly breaking down the walls between music genres to produce an electrifying sound, and from the politically angst ridden lyrics that Itch spews out line after line it is clear that his band may also indulge in political anarchy. Either way I'm not complaining, and nor should you, as this is another fine effort from these boys. It is clear that the future of music, and if they had it their way our country, is safe in the hands of these six guys and girls.
Written by Oliver Thompson