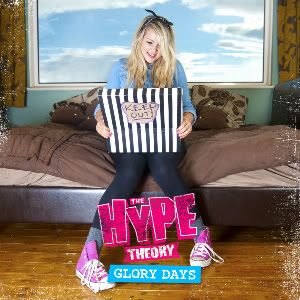 Release Date: October 10th, 2011
Label: Small Town Records
Website: www.thehypetheory.co.uk
MySpace: www.myspace.com/theyhypetheory
Rating:


Essex – a city that has been shoved into the spotlight more than usual since the airing of TV show The Only Way Is Essex (or TOWIE for short) lately, along with the stereotype Essex look and lifestyle of fake tan skins, fake boobs, fake teeth… basically just a lot of fake. Pop-punk quartet The Hype Theory however don't represent any of these things represented the show, but one thing can be said about their debut album: it's pretty reem!
A pop-punk band with a female vocalist will instantly brand the group with ignorant Paramore comparisons, comments that will undoubtedly plague the band for the foreesable future. However, Katy Jackson is no Hayley Williams copycat and nowhere near an Amy Childs look-a-like either. Her British twang stands proud in tracks like 'You're Going Home Alone' and 'We Will Be Singing', a pleasant and refreshing change from those bands who try all too hard to replicate their American counterparts. Her voice is of course encased and driven along in the locomotive of admittedly far from ground breaking but melodic and tried-and-tested, catchy instrumentals from fellow bandmates Sean Bishop, Josh Coombes and Tom Harrison.
'Glory Days' brings one its brightest sparks through with opening track 'Hold Tight', posessing some strong craftmanship and commendable efforts from axe-wielders Sean and Tom, efforts that help to push the track above the all too overwhelming seas of mediocre pop-punk that drown the scene today. 'He's Your Problem Now' sticks out as another album highlight too, showing a bit of a slightly darker and more brooding side to an otherwise rather chirpy record throughout.
Following an awesome summer of festivals and press attention aplenty from being one of this year's Red Bull Bedroom Jam finalists, it seems 'Glory Days' simply declares how the band found their time for the months prior and likely the months following this album's release. It's far from likely that you'll be seeing THT in a future episode of TOWIE or performing at The Sugarhut club, steering away from the fake portrayal that the show all too often represents of Essex and delivering something honest and far from fake through and through.
Written by Zach Redrup