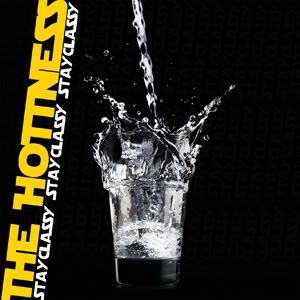 Release Date: April 29th, 2008
Label: Ferret Music
Rating: 8/10
Website: None available
MySpace: www.myspace.com/thehottness
With a name like The Hottness and an album cover as calm as that of 'Stay Classy', you wouldn't expect this band to produce the heavy material that they do. Driving and powerful guitar riffs throughout, and battering drum lines to accompany the 'pissed-as-fuck' vocal work creates something that is far from classy, but that is also far from dull.
Opening with the sound of someone urinating and flushing the toilet, 'Straight Brown' throws you straight into the hard rock atmosphere of The Hottness. For those not too keen on all the hard vocal work don't worry, it's not anger every second, 'Dearly Departed' consists mainly of much more harmonised vocal work, but with them being a hard rock band mainstream isn't something to expect or to receive on the agenda. The breakdown in the same track just smashes you in the face too, with so much negative energy you get just as angry feeding off from it.
'The Ghost' starts things a little differently to the rest of the record, bringing the listener in with notes other than hard chugging chords. The structure of the song and its sound is much more appealing to a wider audience, and just shows the capabilites of this young band. 'Classy' is a little piece of something different too, taking things a little slower than the rest of the album. It doesn't quite reach the level of a James Blunt release, but is a slow-paced song for a band of this caliber.
Though their sound doesn't derive from a fresh source or newly generated genre, The Hottness develop material that shows evidence that they're trying to revive a deteriorating scene. The whole 'hard rock/alternative metal' scene has been giving birth to nothing but carbon copies of older bands in recent years, and with 'Stay Classy' The Hottness show promise, maybe not now, but in due time.
Written by Zach Redrup