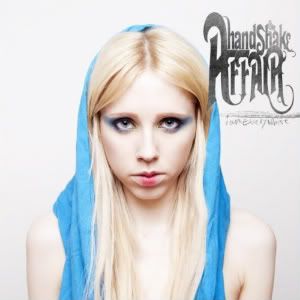 Release Date: July 8th, 2011
Label: Unsigned
Website: None available
Facebook: www.facebook.com/thehandshakeaffair
Twitter: www.twitter.com/handshakeaffair
Rating:

Where does the all important album title come from?: Divine inspiration? A quirky, cult novel? For The Handshake Affair's latest release, it has perhaps come from their own travel itinerary. The German 5-piece have toured all over Europe, while also finding time to pop over to the States to record this slab of mutli-influence madness. It's certainly a polished release that is testament to the guys' desire to sound "the way [they] want to sound", but sadly some of the songs here seem a tad jet-lagged in parts.
Despite the prevailing metalcore sound, it's hard to tell where THA sit musically. There's hints of plenty of genres, but they tend to get a little lost amongst the breakdowns and such, while the prominent use of synths smacks of Attack Attack! and Bring Me The Horizon's later efforts. The synth-choir that BMTH have used to great effect in their later releases make an appearance on 'I Am Everywhere', and while it works well in some parts, on the brilliantly-titled 'Rumblebum' it falls a little flat. That aside, the track certainly lives up to its name. Rumble along it does, with drums a-crashing and guitars a-pummelling, but it's in an all too predictable manner that plagues the first few tracks on the album.
The equally quirky titled 'Inde Pen Dance Day 2' is equally as predictable; while it has that AA! vibe and an unexpected pop-punk edge in the verses, it soon returns back to the tried and tested palm-muted riffs that swallow up anything else that's on offer here.
Their use of electronics is bang on the money at times. The end of closing track 'We're Getting Company' is a brilliant way to bring the album to a stuttering climax, but for the most part, their overly-liberal use of the same effects (they've got that jagged vocal effect down, but so would you if you tried to cram it into almost every song) leaves them sounding tired and lacklustre. It's when they manage to get out of the rut that THA really shine, and I mean really. 'Skeletons' is a great track that has a glimmering, almost peaceful ambience that is utterly destroyed by the last ten or so seconds of thundering riffage. It's reserved nature prior to the outro makes you take more notice than the six songs that crashed and hurled their way through your speakers before it. The synths in said outro are madcap and cacophonic, it adds just the right amount of electro-trickery.
'Windwasting' is another standout track that ultimately defines this album's aims. It has the right balance of the calmness seen in 'Skeletons' and the chaos seen throughout the record, and it gives it a distinctive character that puts it above its fellow tracks. If the band are going to put out a single, it should be this one. It sends a firm message, saying that this band are able to write remarkable songs that don't recycle ideas that have already been nailed by other bands.
On the whole, it's certainly an interesting album. There's a lot of different sounds on offer; some work well together, others not so much. If you enjoy your music heavy with just the right amount of let-up in ferocity every once in a while and soaking of synths, this album will serve you well. If you're looking for something a little more original, try 'Skeletons' and 'Windwasting'. They're the definite highlights of an album that tries hard, but sometimes tries a little bit too hard.
Written by Ryan Williams