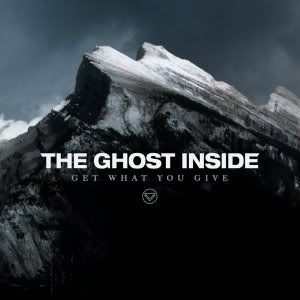 Release Date: June 19th, 2012
Label: Epitaph
Website: www.theghostinside.com
Facebook: www.facebook.com/theghostinside
Twitter: www.twitter.com/theghostinside
Rating:

Never far shy of giving scene forerunners Parkway Drive a run for their money in terms of elephantian heavy, breakdown laden metalcore, California's The Ghost Inside undeniably have a knack for making the listener want to plough their fist through a wall. Yet, with 'Get What You Give', the band's third full-length release, this trademark stomp and bounce has been counterbalanced by a eleviated sense of melody which will inevitably see purists scoff, but which can only prove to further spearhead the band's soaring popularity
Although, from the evidence of opener 'This Is What I Know About Sacrifice', you could be forgiven for assuming it's business as usual. All crushing chug-a-lug guitars and call to arms vocal patterns, it's certainly a rousing foundation, immediatley dispelling any concerns of the band relinquishing on their bristling aggression. Indeed, the album remains a punishing listen throughout, the skyscraper levelling beatdowns in tracks such as 'The Great Unknown' and 'Slipping Away, or the pummeling 'Deceiver', competing with some of the hardest hitting moments of The Ghost Inside's career.
Interspersed throughout this sonic violence however are some blindingly bright glimpses of melody, which act as a wholly surprising light in the darkness. The delicate chord brushes and shimmering lead lines in 'White Light' act as a pleasing offset to the driving pace, and the clean vocal sections replete in 'Dark Horse' and album highlight 'Engine 45' are as tasteful as they are infectious, perhaps betraying a slight influence from the disc's producer, A Day To Remember frontman Jeremy McKinnon.
It is commendable just how The Ghost Inside have managed to step noticably out of their rather successful comfort zone, yet with their characteristic, rabid intensity fully retained, if not magnified. With songs now brimming with hooks aswell as bile spitting malice, it's clear that 'Get What You Give' is enitrely a natural progression from an outfit which is seemingly going from strength to strength.
Written by Tony Bliss