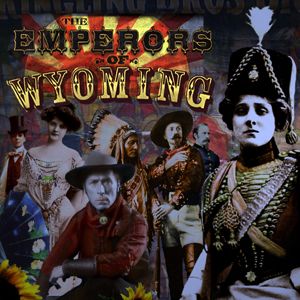 Release Date: September 17th, 2012
Label: Proper Records
Website: www.emperorsofwyoming.com
Facebook: www.facebook.com/emperorsofwyoming
Twitter: None available
Rating:

Since working on Nirvana's diamond-selling album, 'Nevermind', Butch Vig has become one of the best known and successful record producers of all time, working with bands such as The Smashing Pumpkins, Sonic Youth and, more recently, Foo Fighters, Green Day and Muse. Also a musical performer, Vig plays drums for internationally renowned post-grunge band Garbage, boasting a career that includes recording a Bond theme and being nominated for Grammy awards. Vig has now combined with old band mates and friends to create The Emperors Of Wyoming, a country-folk-rock band.
'The Bittersweet Sound Of Goodbye' opens the album and introduces the world to The Emperors Of Wyoming, with a Tom Petty-esque sound and tight vocals from Phil Davies right from the start. As the song title suggests, 'Black Heart Of Stone' supplies a darker approach by the band with an infectious melody and slightly eerie undertone.
The Emperors push the genre as far as it allows with 'Avalanche Girl' (which is probably the best track on the record and an obvious single), sounding like an upbeat Black Rebel Motorcycle Club, while 'Cornfield Palace' is slightly cringeworthy at times and has more country twang than Dolly Parton.
'I'm Your Man' and 'The Pinery Boy' are relaxing highlights of the chilled album, and would prove to be perfect Sunday afternoon listening if you were the love child of Neil Young and The Eagles. An excellent cover of folk legend John Martyn's 'Bless The Weather' concludes the record and sums up how easy listening the album really is.
The band members are clearly experienced professionals and have re-united to write songs for the love of it. The self-titled album is more impressive when bearing in mind that the album was compiled with the four members in different parts of the country and not recorded together. Perhaps not as groundbreaking as Butch Vig's musical credentials may suggest, and may be nothing more than a hobby for him, but The Emperors Of Wyoming's debut album isn't half bad. Not necessarily for fans of his previous work, but a must for American country music lovers.
Written by Michael Heath