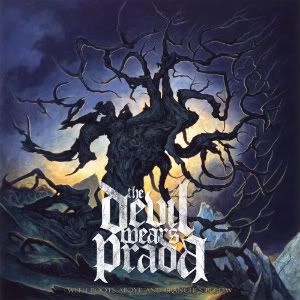 Release Date: June 15th, 2009
Label: Ferret Music
Rating: 9/10
Website: www.thedevilwearspradaband.com
MySpace: www.myspace.com/tdwp
Christian influenced rockers The Devil Wears Prada are quite frankly a hit or miss band. The metalcore music the Ohio sextet create either leaves you wanting more or pondering the question "Am I the only one who doesn't understand what it is that they're saying?".
Fortunately for the latter, their new album 'With Roots Above And Branches Below' contains much more clean vocals than both previous releases combined. Songs such as 'Dez Moines', 'Ben Has A Kid' and 'Louder Than Thunder' highlight that the twin vocal attack of Mike Hranica and Jeremy DePoyster have finally found a good balance their screaming and singing. 'Louder Than Thunder' is without question the stand-out track, revealing an unexpected soft side to the metalcore band. Not only does it display the group's diversity, the extremely rare mellow effort also gives DePoyster the opportunity to show off his often disregarded vocal ability, as well as exposing vulnerable lyrics that are usually hidden under hard to decipher screams and grunts from Hranica.
As per usual – with them being a Christian influenced band – the boys make it very clear that their religion and faith plays a big part in their lives. 'Big Wiggly Style' can easily be interpreted as a confession to God, in which Hranica screams "My regret is not writing more for You, Lord". This might not be everyone's cup of tea, but recognition must be given to the sextet for making this record extremely personal compared with their previous efforts.
'With Roots Above And Branches Below' in all honesty is very appealing. Everything about the record stresses that the members of 'The Devil Wears Prada' have definitely matured as musicians since 2007's 'Plagues'. Hranica's monster-like screams are a lot stronger than they've been before, guitarists Chris Rubey and DePoyster have finally realised that breakdowns aren't needed every 20 seconds, and keyboard/synth player James Baney has a much bigger role on this album and in some places makes the songs sound similar to early work from fellow Christian moshers UnderØath. Both bassist Andy Trick and drummer Daniel Williams add to the solid performance by bringing catchy-as-fuck bass lines and thundering drumbeats to the metalcore table.
The Devil Wears Prada have without doubt taken their music in a slightly new direction and you know what, it works! 'With Roots Above And Branches Below' is a refreshing change from their stereotypical sound and in places completely outperforms both 'Plagues' and 'Dear Love: A Beautiful Discord'. They may still preach about their faith and their religion – obviously an expectation when you choose to listen to a faith-driven artist – but this should in no way put you off listening to them. The Ohio six-piece have worked extremely hard to produce an album better than many people were ever expecting, and their worked payed-off.
Written by Kate Rees
Founder & Editor for DEAD PRESS! | Atheist and antitheist. | Judge of the quick & the dead since 1989.