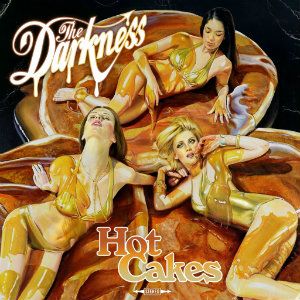 Release Date: August 20th, 2012
Label: Canary Dwarf Records
Website: www.theactualdarkness.com
Facebook: www.facebook.com/thedarknessofficial
Twitter: www.twitter.com/thedarkness
Rating:


Compared to the earlier work, this album is a lot more mature than The Darkness' two previous descendants: the first of which was 'Permission To Land', which featured the world renown tune 'I Believe In A Thing Called Love' and the more infectious and favourable tune 'Growing On Me' which tells a tale about a women you do not understand. Although, it has been reported that it was about genital lice which turned out to be just a rumour.
Their second album 'One Way Ticket To Hell' soon followed with the anthemic party tune 'Girlfriend' with its 80s inspired groove performed by catchy violins and trumpets. As well as their hit single 'One Way Ticket To Hell', which featured the memorable video of hell freezing over.
Now, after six years and acquiring a new bass player, The Darkness are back with their third album 'Hot Cakes', which, even after a big break in the band's career, provides exactly what their fans have missed: incredible fun loving music.
'Hot Cakes' delivers a stream of party anthems, keeping that fun loving feel that The Darkness are famous for. 'Nothing's Gonna Stop Us' and 'Everybody Have A Good Time' are just two songs on this album that all partys need on their playlist. With their memorable choruses and toe tapping beats, you would be mad not to enjoy these classic rhythmic tunes.
Arguably one of the strongest songs on the album that hasn't been released as a single is 'She's Just A Girl Eddie'. With its catchy chorus and bouncy beats, you'll be jumping around your room on first listen.
As for 'Street Spirit (Fade Out)', if you're a fan of Radiohead you will probably hate this cover at first. But, I implore you to give it a second chance, as this song grows on you like dark chocolate; you don't like it at first, but then you'll become fond of it.
Of course, if you get this album, you might as well go all out and get the collectors edition which gives you not only an acoustic version of 'Love Is Not The Answer', but you get three new songs that you can only get with this version, including another acoustic song entitled 'I Can't Believe It's Not Love'Justin Hawkins effortlessly. 'Pat Pong Ladies' and 'Cannonball' also feature on this collectors edition, giving you two extra party anthems not to be missed out on.
So, basically, if you don't like this album, you probably had your soul sucked out of one night you whilst you were sleeping.
Written by Louisa Smith