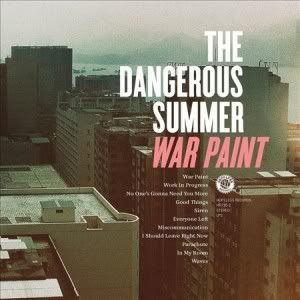 Release Date: November 21st, 2011
Label: Hopeless Records
Website: None available
MySpace: www.myspace.com/dangeroussummer
Rating:

The Dangerous Summer's first album, 'Reach For The Sun', was one that many people (myself included) fell head over heels for. So, their sophomore album 'War Paint' is dangerous territory for the band. Could they release an album that was as good, if not better than their debut turned out to be? Well, satisfyingly enough for the fans, the answer is a firm yes.
'War Paint' comes loaded with many of the same goosebump inducing vocal melodies from AJ Perdomo combined with more gorgeous, layered guitar riffs. Overall, the record is more of an anxious, fast-paced affair, but instead of hampering the band's sound, it allows their creative nature to come to the forefront to produce songs that really show off the depth in these guys song writing ability. It also gives the band a chance to flex their muscles with regards to their pop punk roots. The uplifting 'Parachute' shows off raw, gritty emotion as Perdomo pours his heart out over the pounding drums of Tyler Minsberg. The truly brilliant 'No One's Gonna Need You More' takes the listener by the collar with its hasty introduction, chirpy riffs and huge chorus. The title-track (and album opener) draws the listener in with its enticing vocal hooks, before 'Work In Progress' completely blows you away.
There are some huge (and I mean huge) songs here, the slow burning 'Good Things' sounds absolutely massive, and its heartfelt verses will stick around in your head all day. The breezy riff to 'I Should Leave Right Now' is truly heart warming. The fact that an album can make you feel so happy and also be so serious at the same time is something to be admired. In regards to 'War Paint' in comparison to debut 'Reach For The Sun', there is a real sense that things are getting better with this album, and this is a good thing, a very good thing.
With so many brilliant and chirpy choruses, it can often be difficult to distinguish between songs, because however brilliant some of them are, there aren't many huge hooks here that will stick around in your head all day, like a good pop-rock album probably should. However, the one thing that will stick in your head is the sense of true emotion that you can feel the band pouring into their music, and it really helps as their songs come across as honest and heartfelt as opposed to forced and without a sense or arrogance. The Dangerous Summer are back, and they've returned on top form, the only question is, will they be able to raise the bar again next time around?
Written by Oliver Thompson