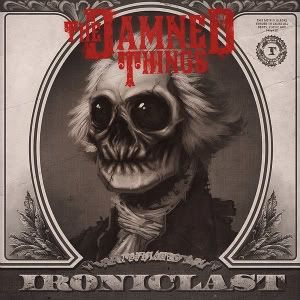 Release Date: December 13th, 2010
Label: Mercury
Website: www.thedamnedthings.com
MySpace: www.myspace.com/thedamnedthings
Rating:

With a line-up containing some bona fide metal legends, you'd expect 'Ironiclast' to pack a serious punch, and in that assumption you'd be totally correct. Comprising of Keith Buckley (vocals) and Josh Newton (bass) from Every Time I Die, Scott Ian (guitar) and Rob Caggiano (guitar) from Anthrax, and finally Joe Trohman (guitar) and Andy Hurley (drums) from Fall Out Boy, The Damned Things makes for an eclectic mix of individuals who make absolutely superb music.
Things get off to a good start with 'Handbook For The Recently Deceased' and 'Bad Blood'. Both have very strong choruses and the vocal hooks, from the latter in particular, are very catchy. Unfortunately it isn't long before the album hits its first bump with 'Friday Night (Going Down In Flames)'. Compared to the incredibly tight song writing on the rest of the record, this song feels particularly clumsy and ungainly. The riffs aren't quite up to par and Buckley really shows his limitations as a more melodic frontman. By its conclusion, I was craving the swagger and aggression he embodies in Every Time I Die, rather than the whining the track displays.
Luckily this stumble is only momentary. 'We've Got A Situation Here' fortunately picks up the pace and the quality, with Scott Ian and Rob Caggiano really showing their metal pedigree with some impressive guitar work and intricate riffage. 'A Great Reckoning' is almost sunk by more of Buckley's lacklustre vocals, but is saved by taut song writing and a shredder of a solo, channelling the dual guitar sound of Thin Lizzy.
The title track is an unsatisfying two minutes, with its faster, punkier feel. It's the black sheep of the album, and feels incongruous with the rest of the band's material. At least it doesn't go on for too long, making way for the absolute beast that is 'Graverobber'. This is the best metal track on the record, drawing on the hard rock attitude of the highly underrated Corrosion Of Conformity but with top-notch vocals from Buckley, finally unleashing that trademark Every Time I Die screech. The real star of the song though is Andy Hurley, who finally gets a chance to show his drumming skills with a bludgeoning double pedal assault. The beats are heavy and thick as tar, and represent the antithesis of his normal Fall Out Boy routine.
After that slab of metal excellence, 'Blues Gettin' The Blues' can't quite match up. The Queens Of The Stone Age-esque rhythms and guitar work hit the mark, while the lyrics penned by Buckley are soulful and bristling with a composite of menace and melancholy. It's a strong closing to an album with more than its fair share of highpoints.
'Ironiclast' isn't a perfect album. A couple of tracks fall flat, and Keith Buckley's whine can grate at times, but the quality of the songs is enough to warrant picking this one up. Personally, I think the brutal attack and filthy strut of 'Graverobber' is worth the price alone, but there's still plenty here that makes 'Ironiclast' worth adding to your collection.
Written by Grant Bailey