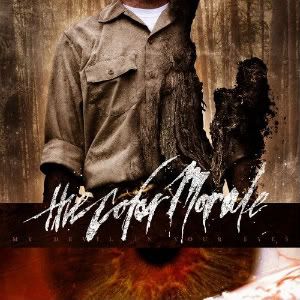 Release Date: March 21st, 2011
Label: Rise Records
Website: None available
MySpace: www.myspace.com/thecolormorale
Rating:


The Color Morale have shed their pretty-boy metalcore that verges on post-hardcore sound with their new album 'My Devil In Your Eyes'. Even though all the same structure is there, the overall sound is heavier and more polished. Compared to 'We All Have Demons', their first offering, it sounds as if the band have taken more time to assemble the songs, and it's obvious they're trying their upmost to stay away from the sound which plagued that album: too many of the songs sounded the same and by the time the album was drawing to its close, it was hard to distinguish when songs ended and began. At times, that album tottered too close to the sound of bands who influence them: early Funeral For A Friend are an example, and they also bordered uncomfortably close to better known bands such as A Day To Remember.
However, with 'My Devil In Your Eyes', the band show us that they're not a band intent to stay in the same genre and are willing to branch out to pastures anew. Take the opening song 'Nerve Endings'; the screaming is much harsher and focused, the clean vocals are still in the same vein as before (not breaking boundaries but is a nice aspect compared to the screaming) and the guitars, at times, veer away and add tinges of Misery Signals to the mix. It's a good start to the album.
'Human' shows The Color Morale taking a different route than with other songs. The overall sound is that of American hardcore, rather then the post-hardcore that they thrive off, and even though it's hard to imagine the band playing a song like this, they manage to pull it off. This is because of the superb guitar work which glues everything together, and the dual vocals which are extremely effective here. The almost chanted lyrics are sure to go down well with a live crowd too: "I am not afraid to die / I am terrified of life".
'Quote On Quote' is another stand-out track. In a way, it's typical The Color Morale, but because of the polished sound they manage to stay away from their sound of before. Just about. The guitars merge into what can only be classed as tech-metal riff,s but then drift away to their post-hardcore roots again. It's a song that keeps you on your toes, unaware of what's around the corner. Again, the influence of Misery Signals creeps its way to the brim, but The Color Morale then go into a much heavier sound with a breakdown that is sure to keep the two-steppers happy.
The Color Morale have exceeded expectations with this album and it's bound to go down well in the scene. It may not be something to listen to on repeat, but it's got some good tracks that will fit well in alternative clubs throughout the world, and of course, it's always good to see a band bettering themselves.
Written by Rhys Milsom