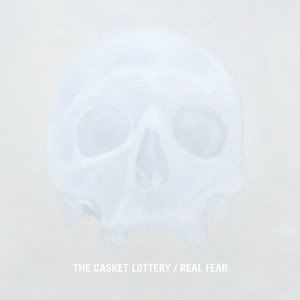 Release Date: November 12th, 2012
Label: Second Nature Recordings
Website: None available
Facebook: www.facebook.com/thecasketlottery
Twitter: www.twitter.com/casketlottery98
Rating:

They're back, and this time they have given us something to enjoy, with the characteristics of each previous release combined into one. It's none other than The Casket Lottery, a band that have jumped in and out of the music scene more times than you can be bothered to count. It's their first album in nearly a decade, and 'Real Fear' has something to prove, but instead of the standard comeback releases, they have combined that fear and produced this album.
The opening track, 'Blood On The Handle' portrays the heaviness of the concept of fear, as the minute long intro secures the album into place, setting the way forward for this release. The atmosphere relayed from this track is quite dark, but truly establishes the direction of the album. That direction moves through quite like a spiral, and with 'In The Branches', it shows that there isn't a need to express the sense of heavy through fast and loud, but through the manipulation of words: "Black snakes eating baby birds".
It's a dark concept, but it stems through the selection of instrumentals used throughout this track. The band have maintained their 80s feel within part of the album, but in 'The Moon And The Tide', it's the only track that clearly exhibits that 80s vibe throughout.
'Baptistina' is a track unlike any other. The vocals and guitars and so different from each other, that the track could be split into two different tracks, but somehow, they work and the constant bass line and the steady drums keep it in tact.
The album drifts away from the heavy elements and finds itself on a lighter note with 'Radiation Bells'. Although one of the lightest songs on offer her, it finds itself in the mist of the darker end of the album, between the sinister riffs and the mystifying vocals. It's the track that highlights how the fear can take different forms and, as the album draws to a close, 'Real Fear' closes the curtains in true The Casket Lottery.
With 'Real Fear', the band have taken the concept of fear and made it into an album that not only expresses the gist of fear but through the title-track as well. The Casket Lottery have proved that they haven't lost that unique style of music and that there's hopefully a lot more still to come.
Written by Yasmin La Ronde