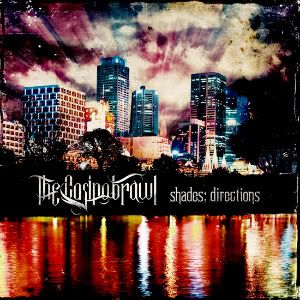 Release Date: September 7th, 2009
Label: In At The Deep End Records
Website: None available
MySpace: www.myspace.com/thecasinobrawl
Rating:


'Shades; Directions' is the debut effort from northeast hardcore/metal quintet The Casino Brawl. The lads got together in 2006, and soon after forming shot to local success with their 2006 EP 'Save Yourself From The Gates Of Hell', and again with their second EP 'Small Town Split', both of which received rave reviews. Due to the success of their first two releases, it became important for the band to prove themselves once again through their debut album, ensuring themselves a firm and deserved place in the UK metal scene.
From the off, Jonny Ferguson establishes himself as an extremely talented vocalist, his style having an originality of it's own, immediately separating himself as a vocalist, and his band as a whole from the rest of the generic metal bands out there. His blend of hardcore vocals and softer lilting melodies give the record an added depth that wouldn't be expected from a debut full-length, and the addition of synth gives a welcome 'poppier' feel to the record. The guitar riffs provided by Adam Ridely and Marc Henessey aid in the overall energy, and serve to get the blood boiling andadrenaline pumping when added to the epic drumming from Luke Walker. This leaves the listener in no doubt that the live performance put on by this quintet would be something quite spectacular.
Lyrically, the band don't stand out as anything spectacular, with the majority of the lyrics either indecipherable or nothing particularly note-worthy. However, Ferguson leaves you in no doubt that each and every song is personal to himself or the band in one way or another, and this comes across in the way in which he lays himself bare while delivering the harder vocals, for example towards the end of 'Faith Is Believing What You Know Ain't So'.
Overall, this album appears to be lacking in nothing for a debut effort, and its weaker points are more than made up for through the stronger elements present throughout the record. Picking out one favourite track from the album would be impossible, however 'Time And Tide', 'L Is For Liars' and 'A Tower Of Silence' stand out as probably the strongest and more favourable tracks.
Certainly this band is one to watch out for in the future, because if their future efforts are anything like 'Shades; Directions', then we're definitely in for a treat.
Written by Lucy-Jayne Love