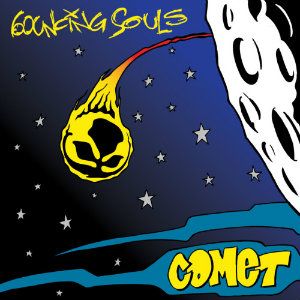 Release Date: June 12th, 2012
Label: Chunksaah Records
Website: www.bouncingsouls.com
Facebook: www.facebook.com/bouncingsouls
Twitter: www.twitter.com/bouncingsoulsnj
Rating:

Old-timers amongst the punk rock scene, The Bouncing Souls have a lifespan of 23 years. 'Comet' is their latest release since their 20th anniversary collection of EPs, 'Ghosts On The Boardwalk'; however, is this an attempt at reviving their (albeit slightly slowed down) punk spirit, or are they simply flogging a dead horse?
'Light hearted' is certainly a good adjective to use when referring to The Souls, however, this can quickly turn into 'meaningless'. Their lack of substance lyrically is quite damaging to their credibility, especially as in the past they have taken stabs at subjects such as homophobia whilst still keeping a humorous tone. However, with 'Comet', the lyrics simply seem requisite and forced instead of carrying a message, with topics such as being on the radio (how many times have we heard this before?) in the song 'Static'.
There is a love song, 'Coin Toss Girl', which actually works very well and is probably the superior track of the record, but almost all ties to punk have been lost. Evolution in sound isn't a bad thing by any means, however, I would have preferred to see a full, whole-hearted effort at this change in direction rather than mediocrely dipping in and out of a weak effort at sticking to their roots.
That's not to say that it's necessarily a bad record, but it's just very average. It almost seems rushed, as though they are hurriedly performing CPR on their unconscious career. It's just a shame it didn't make a full recovery. It will appease most fans just for the fact they have released something new, but it is undoubtedly a step down from their usual form; a depressing, yet all too familiar scenario amongst long-established bands.
If you're familiar with The Bouncing Souls work, the few slow tracks will be an interesting listen. Other than that, there really isn't any need to rush out and buy it.
Written by Jack Bastard