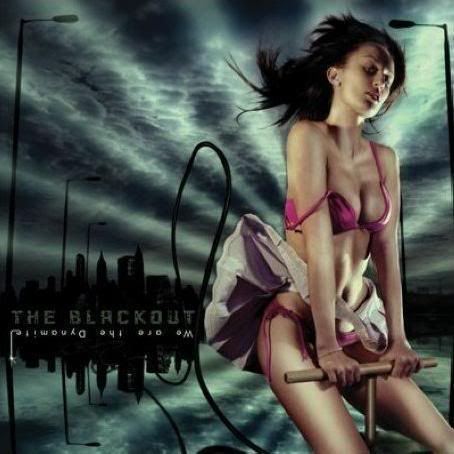 Release Date: October 1st, 2007
Label: Fierce Panda Records
Website: www.theblackout.co.uk
MySpace: www.myspace.com/theblackout
Rating:

Welsh post-hardcore rockers The Blackout have been rising considerably well for the past year or so. With the help of their fellow welsh friends Lostprophets adding them to some of their tours, The Blackout soon rose from the status of an underground band to a more publicly known band. 'We Are The Dynamite!' is their debut full-length release, and is a record that makes you want to talk about this band more than ever, to the point that 'The Blackout' is a household name.
Opener 'Tick Tick Boom!' pretty much sums up what the rest of the album is going to bring for you. With constant group chants of "We… are… the dynamite!" slowly rising in volume as if a crowd is yelling it while walking closer and closer towards you until the point that they're right into your face. We're soon moved onto 'I've Got Better Things To Do Tonight Than Die', which like most of the album treads upon similar water to the rest of the bands material, of a singing a line then screaming a line verse structure. This tag team of vocals by Sean Smith and Gavin Butler is a close and effective one, with their vocals weaving in and out of one another like a well-developed piece of cloth.
Recent single release 'The Beijing Cocktail' is another good showcase of The Blackout's sound, with one of the more catchy choruses to be found on the record. A song about a relationship and/or a recent break-up "You're falling apart / You knew that it was over / You knew this from this start / We've been here before", which is probably a piece that enters the most into the emo side of their material, which is rarely ever the case with these lot. They tend to either sing about things in a bit more of a less serious and less heartfelt way, but with an clever underlying meaning, or generally bring in a topic using something a bit less relevant.
Such a thing can be found in track 'She Is Macho' where the main subject on hand seems to be the subject of a werewolf "I don't know how to tell you / But I have to somehow / I used to be a werewolf / But I'm alright now" where the actual topic of the song could be about someone changing from their usual self into a vicious and violent nature of their personality. Not quite the wit you can expect from acts such as GlassJaw and Coheed & Cambria, but they take more consideration into their lyrics than most of today's popular bands.
'Life & Death In Space' is one of the best album closers from any of this year's releases, and probably the biggest stand out track on the record. Little harsh vocal work is present here, and various techniques and instrumentation is included here including a string section towards the track's bridge. If you're to buy one track from this album make it this one. A clear showcase of progression within the band's songwriting and structure skills is reeking from every seam of this song, and should therefore be appreciated for every second it's entering your soundwaves.
Though some may consider this album repetitive and lacking in original and varying ideas, it is almost as addictive as a drug. The Blackout do what they do incredibly well, and put a lot of effort into their material. Definitley a better live act that a recorded band, The Blackout have something to sing and scream about and have no reason to stop anytime soon. With a debut full release like this, things can only get better for this Welsh six-piece.
Written by Zach Redrup
Founder & Editor for DEAD PRESS!