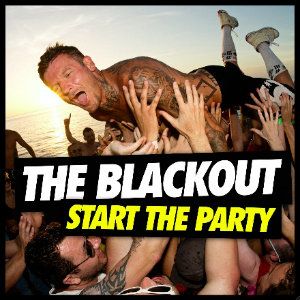 Release Date: January 21st, 2013
Label: Cooking Vinyl
Website: www.theblackout.net
Facebook: www.facebook.com/theblackoutband
Twitter: www.twitter.com/theblackout
Rating:

Welsh post-hardcore outfit, The Blackout, have come a long way since their first EP back in 2006. Their latest full-length effort, 'Start The Party', shows a refined change in sound. Leaving their disordered sound behind for a fine-tuned, polished album, The Blackout have succeeded in creating a record that plays upon the ever so popular party theme which resonates in ways through every 'popular' song circulating at present.
Amidst the abundance of sheepish, stadium rock "woah-oh"s does lie a sprinkling of their original character. As aforementioned, 'Start The Party' is a change for The Blackout as it brings forward a more toned down sound. To class it as a matured album would be a doubtable statement, given the song titles and vocal messages. Alas, the boys have clinged onto their right to be classed as 'rock' with the evident maintenance of their agro shouts and, at times, marvellous riffs.
Notable tracks on the album come in the form of 'Running Scared' and 'Sleep When You're Dead'. The former of the two admittedly shows off Sean Smith's vocal talent and is one of the most energetic songs on the album, carrying with it a more mediocre, mellow sound, though it is consistent. From start to finish, it captures the attention of the listener with a well-rounded, solid rock anthem. Equally, with 'Sleep When You're Dead', from the grooving introduction through to the sturdy chorus, the band show they do still posses talent.
However, it just seems like they're putting their talent into not-too-ballsy sing-along choruses, such as 'Let Me Go' and 'Keep Singing'. Whilst the album's theme/message is commendably upbeat and positive, the songs don't give this off. With regards to opening track, 'Start The Party', there's an over abundance of songs by The Blackout that would start any teen party better than the half-arsed radio friendly borderline rock that's displayed here.
A perfect cross-over between the aggressive, passionate band that circulated back in '07-'09 and the fun loving party animals that present themselves to us in 2013 would go down a treat. Be it merely an opinion, 'Start The Party' would greatly benefit from the party rock ('Tops Off Party' style) attitude they used to posses. This album comes with its pros and cons and, all credit to them, is very much an open album for all genres.
Written by Laurence Kellett