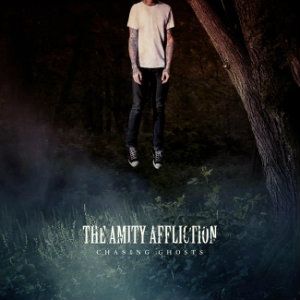 Release Date: October 1st, 2012
Label: Roadrunner Records
Website: www.theamityaffliction.net
Facebook: www.facebook.com/theamityafflictionofficial
Twitter: www.twitter.com/theamityaffliction
Rating:


Australia always seems to be separate from the rest of the world when it comes to certain things. Be it the ever repeating storylines of Neighbours, or the ridiculously overhyped V8 Supercars racing series, they do what they want. The Amity Affliction are a bit like that. If they were in the US, they would arguably fade into obscurity for their uncreative style, but in Australia they flourish as one of the bands at the forefront of their genre.
'Chasing Ghosts', TAA's third album, entered at number one on the Australian record charts, so it can't be that bad. What you're in for is a mix between Sleeping With Sirens melody and Asking Alexandria breakdowns. It's enjoyable, but it probably won't make much of an impact on you on the first listen. That's where its repetitiveness actually works to its advantage; it's easy to listen to 'Chasing Ghosts' over and over without much loss of interest.
One thing that TAA have been known for in the past is their irrelevant song titles, and that continues here. With song names like 'I Heart H.C.' and 'Geof Sux 666', you'd be forgiven for thinking that the band are all twelve years old, but try and look past the sillyness. 'Geof Sux 666' is actually a pretty good song, and one where the breakdown is actually used properly. And that's where 'Chasing Ghosts' falls flat, there are too many instances of padding with mindless chugging. It's a trap that many a modern metalcore band has fallen into and one that threatens to destroy the genre.
You've got to give TAA credit for their lyrics though. Despite the juvenile song names, there is a strong theme throughout: one of suicide. In an interview for Alternative Press, vocalist Joel Birch commented on the nature of the album, saying how it gives a message of hope and how suicide shouldn't be taken lightly. It's a bold message to be preaching and hopefully one that troubled teenagers will take notice of. Maybe The Amity Affliction will prove to be more important in the minds of youths than on the stage in front of the public.
Written by MG Savage
Founder & Editor for DEAD PRESS!