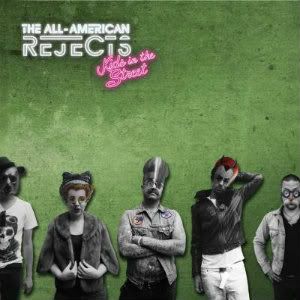 Release Date: March 26th, 2012
Label: Interscope Records
Website: www.allamericanrejects.com
Facebook: www.facebook.com/allamericanrejects
Twitter: www.twitter.com/officialaar
Rating:

It's been four years since the release of 'When The World Comes Down', and with a UK tour with one of the biggest pop-punk acts in existence on the horizon, you wouldn't be mistaken for thinking there may be a slight bit of pressure on the shoulders of Oklahoma pop-rockers The All-American Rejects with their new full-length effort, 'Kids In The Street'.
Not a band who can be accused of sitting on their laurels and releasing anything similar to previously successful hits, this time around is no different either. There's still that distinct AAR sound, but this falls more into a synthesized pop-rock category and sounds so much more personal than anything previously released. First single 'Beekeeper's Daughter' is by far one of the stand-out tracks on the album; typical Rejects style with downbeat lyrics contrasting a nice upbeat melody, with Tyson Ritter's distinct voice adding that finishing touch.
'Fast And Slow' may indeed be the best song on the album, instantly following the hit single and proving to just be a big bag of energy and instantly adorable on every basis. Upbeat, energetic, lyrically impressive and well, it just sounds good. If you really push for it, there are elements of this song that make it comparable to 'Swing, Swing'. As with AAR's previous releases, the more aurally appealing songs tend to be the high energy ones, the slower melodies bring the pace down and sound nice, but in reality, there's no comparison to the higher pitch vocals and quick tempo instrumentals.
'Walk Over Me' is another instantly catchy number and along with several others, including the album title-track – that although sounding very different, are still so eloquently The All-American Rejects – this sounds like precisely the kind of song that will thrust the band straight back into the limelight. There's definitely a lot of pressure on the heads of AAR given their previous success, Tyson Ritter's personal acting success and the announcement of them being Blink-182's main UK support. But, on the basis of this album, The All-American Rejects are back, and this album is another consistent cog that's building them up a very versatile back catalogue that may indeed see them become a very impressive live act.
Written by Gary Cassidy