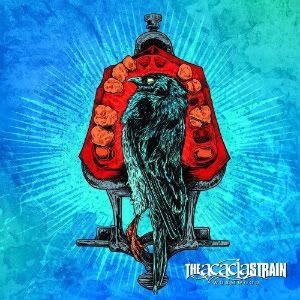 Release Date: July 20th, 2010
Label: Prosthetic Records
Website: None available
MySpace: www.myspace.com/theacaciastrain
Rating:

Before I started even listening to this music I'll set it our plain and simple, I'm not a huge fan of this band by a long shot. I don't really have a reason for this other than I find their music rather boring and dull. Anyway, I shall try to not let my personal inhibitions get in the way of this, so onwards and upwards as they say.
This is now their fifth studio album in a rather up and down career of member changes and band "beefs" (mainly Emmure), and you can certainly tell that all of this has burned onto vocalist Vincent Bennett's mind with his disgusting and vile, laced in misanthropy, and soul destroying lyrics. Continuing with the theme of the down tuned guitars ready to bring forth the 'brown noise', it is without doubt heavy as the sin cast forth from the throat of Bennett.
The emotion is clear for all to see as he seeps and roars brutally through the 'Bay Of Pigs' and 'BTM FDR'. All the while he is holding the record together and keeping it from monotony. Chug-chug-chug, roar-roar-roar is the general consensus for how the songs develop on from each other, but throughout them all you can still pick an iota out of each which stands out from the others, and it goes without saying that this is one pissed off and angry laden albums of, quite possibly, all time. It dredges through the grime and sludge and covers you with tar as you peruse from each punishing breakdown to the next.
Even I as a huge critic cannot really find anything necessarily wrong with this record at all, it has all the elements of a classic that you could ask for. It has the dangerous and stupidly ferocious vocal tones, the bone smashing breakdowns and is disgustingly heavy. Burrow on top of that the hatred for the human race, and you have a revolt on your hands, one that will keep on growing and growing as The Acacia Strain push on through the abyss that they have created in the Earth's presence. Put simply, if you are a fan of heavy music then you have to listen to this.
Written by Dom Wyatt
Founder & Editor for DEAD PRESS!